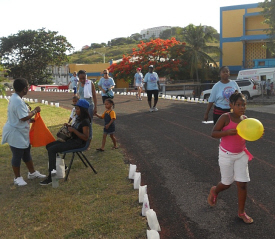 A troubled economy could not dampen the spirits of more than 1,000 volunteers, participants and supporters who attended the 11th annual Relay for Life event at Charlotte Amalie High School from Saturday afternoon until early Sunday morning.
With 70 teams participating, the hundreds of groups that raised money just barely missed their goal of $200,000. The total amount collected Sunday morning at 6 a.m. was $189,000, but chairwoman Jane DiCola was optimistic they would receive the rest of the funds soon.
Twenty-six teams still owe, she noted, and after the committee receives those funds, they will have surpassed their goal. DiCola said money continues to come in even after the event, stressing that it can be difficult for teams to raise money during trying economic times.
"There are a couple of financial challenges, but not to the point where it's impossible," she said. "People have really given their hearts."
The teams reached well beyond the halfway point by the beginning of the event on Saturday, still raising funds and receiving checks into the wee hours of Sunday morning. Organizers hoped each tent, with at least 15 people, would raise a minimum of $1,650. The Ya Ya Sisterhood raised the most money.
Other teams consisted of businesses such as jewelry stores, hotels, and banks, with participants who shared stories about employees and loved ones affected by cancer.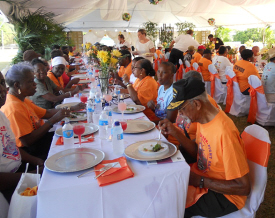 Linda Meyer of Diamonds International noted that they walked for their coworker, Felicia Hall, who was diagnosed with stage-four cancer in December.
"We're here fighting for her because she fights for us at work every day," Meyer said.
This is the first year Diamonds International was involved in the relay, showing off a Mardi Gras-themed tent with pictures of Hall displayed.
"We're so proud of the amount of money we've raised, not knowing where to begin," said Meyer, explaining they came up with more than $6,000 before the event began.
Decorations sparkled in the hot sun as passersby pointed out their favorite tents while they shared cancer stories over grilled sandwiches. Survivors smiled as laughing children chased one another around the field and under the shade of the survivors' tent.
"This is a known event that speaks to people's hearts," said DiCola. "Looking for sponsors this year has been challenging because of the economy. We have also lost funds, but look at these great people here."
Attendees had plenty of opportunities to contribute to the organization as they entered in raffles, played games, and carried colorful balloons with intricate butterflies painted on their faces.
Committee co-chairwoman Vernice Gumbs noted that several sponsors came though despite uncertainty, with some pledging up to $10,000.
"Every volunteer helped to raise money," she explained, noting that some of the teams, such as the Ritz-Carlton had competing groups within them to collect even more money.
"It's important that the money stays here in the Virgin Islands. This helps people who don't have the resources. Economy has definitely played a role," said mistress of ceremonies Lesley Comissiong.
DiCola noted that participants walk and continue to raise funds for 18 to 24 hours at the relay event.
"They're exhausted, but this works because we raise money by putting people together with a significant commitment to man," she said.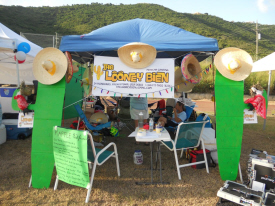 "It's a home away from home," she added. "They all commit to walking one hour on the track. The track is reserved for volunteers and survivors who are the reason we're here. We tell our story to tell our need for cancer survivors to keep up the fight."
People from all walks of the community joined and left throughout the event. Bands, food vendors and games "keep participants motivated to push through the night," DiCola said.
Lorraine Baa, executive director for all three units of the local branch of the American Cancer Society, noted that more than 300 survivors attended this year, several staying through the night to help.
Five-year breast-cancer survivor Sharon Petersen said she is thankful to be able to attend the event with her grandkids.
"You survive and it's nice to do something for others and see all of the bags for who we remember. I was one of the lucky ones," she said, explaining that doctors caught her cancer in its "beginning stage."
Petersen kept her strength through her faith. "When I was first told, I cried, then I said 'you know what? I'm just going to denounce it,' and I spoke to God, and here I am."
Awards
Best Decorated Tent: D.I. Dynamites
Most Funds Raised: Ya Ya Sisterhood
Most Participation: Messengers of Hope
ACS also recognized a number of teams in the Team Fundraising Club Program: Ya Ya Sisterhood, Messengers of Hope, Delta Sigma Theta Sorority, Ritz Carlton of St Thomas, Diamonds International, Innovative Communications, Baha'i and Friends, Total Fitness and Cost U Less.