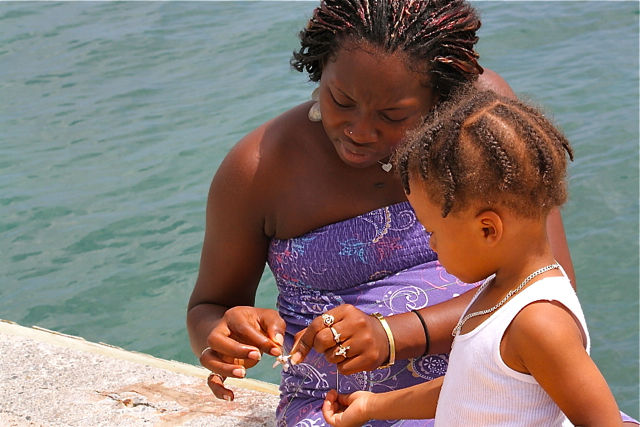 Tiny fishermen and tinier fish crowded the Christiansted wharf Saturday at the Department of Housing, Parks, and Recreation's Kids Fishing Tournament.
Commissioner St. Claire Williams said the event was the culmination of his department's "Take Me Fishing" program, which sent educators into the schools to teach children the basics of fishing.
"We're teaching kids about fishing because that used to be our pastime," Williams said. "You'd be surprised. We had big time fishermen back then who couldn't even swim."
Williams said children today have much less interaction with the water, and his department is trying to change that. In addition to teaching fishing fundamentals, DHPR has a learn-to-swim program and is hoping to expand into other water activities, such as kayaking. He said since they live on an island, the territory's citizens should learn to make better use of the water around them.
"We have the natural resources here," Williams said. "Some people say 'Oh there's nothing to do.' There are so many things you could do!"
Early in the day, a crowd of about 40 children, ranging in age from 2 to the mid-teens, gathered near the fort at the Christiansted National Historic Site. Volunteers led them through a series of instructional demonstrations on the proper way to tie a knot, set bait, and cast. Then it was time to fish.
Using yo-yos (large spools of fishing line without reels or rods attached) the children cast off from the shore in hopes of snagging whatever might be living below the wharf.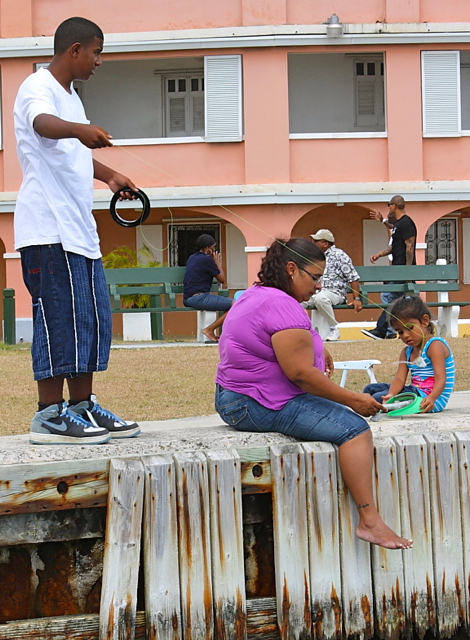 Some kids twirled their lines like lassos before throwing them out as far as they could while others laid on their bellies at the edge of the wharf and tried to drop their hooks right on the heads of the fish they could see swimming below.
One volunteer was overheard reminding some overeager participants of the rules: "You can't just grab them. You have to hook them."
After a few minutes, the kids started pulling in their catches. Most were tiny squirrelfish, but a few excited kids pulled in small chain moray eels.
Linda Rivera brought her daughter, Jaylyne, and son, Jose, to the event. She said fishing was one of her family's favorite pastimes and that she was surprised when she hears people say they've never tried the sport.
"That's weird," she said. "I mean you live on an island and you never went fishing?"
This was 4-year-old Jaylyne's first fishing tournament and she didn't seem to be having much luck, but her 12-year-old brother was casting like a pro.
Jose said that he had been fishing since he was three and that he spends a lot of his spare time casting off from the shore. Asked what he likes about the sport he replied, "It's a lot of waiting. It's a lot of patience."
Edgar Bengoa of the Golden Hook fishing club echoed that sentiment as he handed out fishing tips to the kids along the wharf.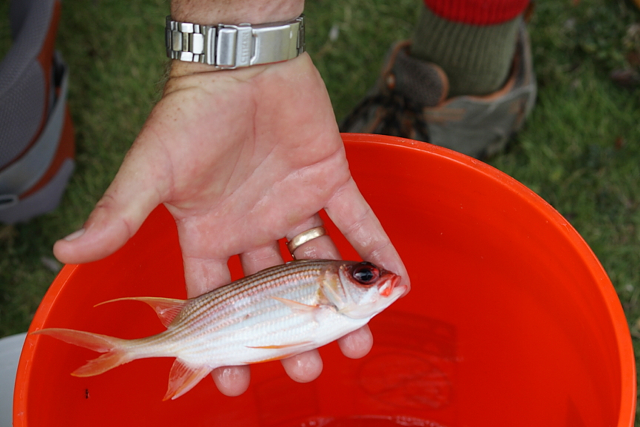 "Every day is a fishing day, but every day is not a catching day," he said. "Go out expecting the best, but you may not catch a fish."
In previous years, the Golden Hook fishing club hosted this event, but two years ago they handed it over to the government due to lack of sponsors. The club continues to volunteer at the event.
Bengoa said it was important to expose children to fishing at a young age. He said he caught his first fish when he was 4 years old and that experience turned into a lifelong passion. He hoped some of the children in the tournament would have a similar experience.
"A lot of these kids have never fished before. So it's something that's an eye opener for them," he said. "Plus it's something else to do instead of sitting home playing video games in front of the TV."