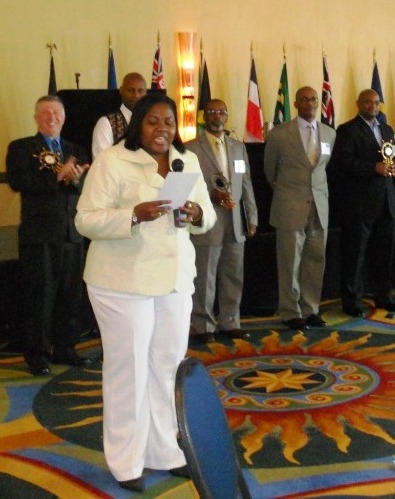 Keynote speaker Anthony Harriott urged attendees to continue working for the safety of their communities by taking ideas discussed at the 2012 Caribbean Anti-Gang Conference and putting them into action.
More than 400 law enforcement and government officials, educators, business owners and guests from all over the Caribbean and the United States attended the second day of the conference on Wednesday at the Marriott Frenchman's Reef.
The conference opened on Tuesday with many sessions and speakers focusing on the region's need to react to the gang problem. On Wednesday speakers followed up on that need, not only encouraging residents to become involved, but telling them how they can initiate proactive solutions in their communities.
"Communities that are already gang infested must shift the power," said Harriott, director of the University of the West Indies Institute for Criminal Justice and Security. "Visitors to the community can't help. What is required is almost a permanent presence. Then the community can assert itself in terms of social control."
"It's a matter of developing networks and partnerships to access resources," he added. Develop and support community organizations "so there's something there that tried to structure the community," Harriott said. "Otherwise, it's just a collection of individuals with a shared problem."
Virgin Islands Lt. Gov. Gregory Francis asked for help to "restore and return our beautiful islands to the safe and secure communities we miss and love," admitting that "residents are reluctant to venture out at night."
He noted that gangs jeopardize safety in schools, create chaos and impact the Caribbean islands' reputation as a tourism community.
Jacqueline Freeman, anti-gang committee chairwoman, said if residents intend to remain in the Virgin Islands, they cannot afford to give up. "They have to preserve these islands for their children and their children's children."
Harriott, who is visiting from Jamaica, said there are more than 300 gangs in his island nation. A few years ago, the island saw a rapid increase in gang-related homicides, but residents took charge and started to take back their communities in 2009, he said.
According to Harriott, there have been numerous sudden changes in "post-independence Jamaica." The nation rapidly industrialized after a decline in agriculture, but Jamaican industry quickly fell. When people were unable to find work, they turned to gangs. In high crime zones, said Harriott, there is up to 80 percent unemployment.
"Where you have gangs in the community, you have increased homicide," he said. "Violence is generated by behavior problems. Conflicts are generated by everyday interactions. There are activities of violence and drug trafficking."
Harriott went on to tell a story of a gang monopolizing a community and taking over as its government, setting and enforcing rules as well as offering everything from civilian services like security and programs for youth to government services such as healthcare and welfare. Large sections of the community were supportive of the gang, he noted.
"Behavior is consistent with community values," said Harriott. "The relationship to the community is described as a gang republic."
Leroy Contee, community relations coordinator for the Marine Corps Military Police Department in Hawaii, reminded listeners that they already know why people join gangs, now Caribbean nations need to act.
"Fear is ok, but you're letting less than 10 percent of the population affect your life forever. It's a shame when you have to worry about being out after dark," he said. "It's not what the tourists see, but it's there and it has a negative connotation for community."
Harriott explained how just one gang was able to create an upheaval throughout Jamaica, shifting political opinion and a community, but he said eventually the government led a campaign against the gang followed by a national anti-gang effort.
Projects such as social intervention programs, removal of gang members, consultations with the community, replacing services that were provided by gangs, helping residents find work and bringing in education initiatives are only a few of the proactive steps government officials and community leaders can take to begin the action of ridding areas of gangs.
"If we could isolate causes, responses could be more targeted," Harriott said, noting that Jamaica significantly lowered crime rates in a previously crime-related community."
Harriott was quick to admit that though the battle was won, the war is not over. Communities must continue to work together to combat gangs, they cannot give up when one gang is put down, he said.
"They're not here or gone overnight," said Louis Jordan, director of National Consulting Solutions, a street gang intelligence agency.
He encouraged residents to start simple by doing things like cleaning up graffiti, which he said "is a snapshot of what community life is like in that particular area."
"We have to say 'enough is enough. We're going to address this. These are our kids,'" he added.
"We need community discipline to have communities discover their power," Harriott explained. "It's a long haul. As with any other human endeavor, there will be setbacks, many disappointments. Have the strength to keep going because it's the right thing to do. "
"I understand the despair in working alone," he added. "The first step is sharing with others and building associations that can act collectively.
Freeman noted that Francis "pretty much confirmed for us that there are gangs in the Virgin Islands and we do have this problem. We do need to come together and work to address it."
"Reach out to the business community," she encouraged. She noted groups like My Brother's Workshop that are "re-envisioning something for the kids," explaining that mentoring should be a territorywide effort.
Freeman thanked the community for its support in making sure the conference carried on as planned, explaining that the committee had to cut back on several expenses unexpectedly.
"Many residents jumped in at the last minute and helped in every way possible," she said. "They were willing to do whatever it takes to make sure the conference was a success."
After the conference, the committee plans to continue combating gangs and violent crime by reaching out to community organizations and following up with community leaders to ensure they keep striving for safe neighborhoods.
The committee also organizes a drug education camp for youth ages 9 through 16, where they learn techniques and skills needed to stay away from drugs and gang activity. The next camp will run August 3-10 on St. Croix.
Call Jacqueline Freeman on St. Thomas at 776-1525 or Edith Stevens on St. Croix at 201-9097 for more information.