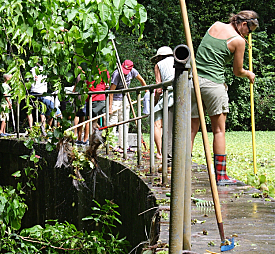 When volunteers started arriving at Creque Dam Pond Sunday morning, not a drop of water was visible. From one shore to the other, all they could see was a thick, green mat of vegetation. Over the last two months, local residents have watched as an invasive weed known as water lettuce has quickly overrun the pond.
Bruce Wilson, owner of Mount Victory Camp, decided something needed to be done.
"I made some attempts to get some other people to do it, government organizations," he said. "But no one seems to be organized to do this kind of thing, which means it's time to call the citizens."
Wilson sent out an "environmental call to action" via email asking for volunteers to show up at the dam with rakes Sunday morning. Once the message was out of his hands, it took on a life of its own. His friends passed on the email to others, who in turn passed it on to more.
Sunday morning 25 people showed up ready to work, some of whom Wilson had never met.
"It was just a simple call for help organized by people who care," Wilson said, adding that he was impressed by how many responded. "That's the beauty of networking."
Volunteers took position along the dam. Using their rakes, they pulled up a few heads of water lettuce at a time, turned, and then dumped them over the abyss behind them. About two seconds later, they would hear a wet thump as the plants began piling up at the foot of the dam below.
Water lettuce (pistia stratiotesi) looks exactly like what it sounds like. The plant resembles a floating head of lettuce with long, feathery roots extending below it. The plant is not native to the Virgin Islands, but can be found throughout the eastern United States and is generally viewed as a nuisance.
Water lettuce reproduces quickly, forming a thick mat of vegetation that clogs the pond or lake it's in. The mat prevents light and air from reaching the water beneath which degrades the water quality. Oxygen levels in infested ponds and lakes drop greatly, threatening fish populations. The weed also makes accessing the water difficult for birds.
It's unknown how the plant was introduced to the pond.
As the morning progressed and all of the plants close to the dam were removed, volunteers began brainstorming ways to reach those further out. One man constructed a makeshift grappling hook out of a piece of bamboo and a rope, which proved surprisingly effective.
Eventually, they launched a kayak into the pond. Using ropes tethered to the dam, the paddlers corralled large chunks of the mat and sent them floating towards the volunteers on the dam.
By noon, many people were complaining of stiff backs and blistered palms, but overall morale was high.
"I'm always up for doing something to help our environment," said Annabel Schwartz.
When asked what she thought of community members taking the lead on this cleanup rather than waiting for a government response, she responded: "I think it's great. If we'd waited around till someone actually said there's a big problem…we'd be trying to fix something far worse, I think."
Brad Olson echoed this sentiment, saying "It's just something that needs to be done and strong backs we have."
Olson brought his young son, Anders, along with him and they both agreed that it was a fun way to spend Father's Day.
By 1 p.m. the group had had enough. About three-quarters of the weeds had been removed. Most of what remained was stuck in hard to reach corners along the shoreline.
Bruce said he's planning a second environmental action day for the pond in two or three weeks and that the experience Sunday had given him ideas on how to improve the process. He wants at least two more kayaks and he was brainstorming better ways to corral the plants. Still, he acknowledged that the key was getting volunteers.
"Environmental restoration is very hard work," he said. "You have to get a lot of people who really care. And that's what we got today."