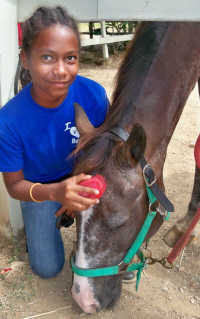 For 46 years, children on St. Croix have had the opportunity to learn all aspects of horsemanship in the St. Croix Pony Club. Bettye Skeoch, one of the founders, said the club established in 1966 is the longest continuously running children's' organized activity on St. Croix.
Pony Club is an educational organization that teaches riding, mounted sports as well as the care of horses and ponies, and develops in youth the characteristics of responsibility, moral judgment, leadership and self-confidence. Pony Club provides opportunities for instruction and competition in English riding, horse sports and horse management for children and young adults up to 25 years of age.
Last week, visiting summer camp instructor Sue Beth Bunn said the club doesn't work if the parents don't get involved.
"For the clubs' success parents have to commit to helping out and volunteering," Bunn said. "If the children are young, parents have to help a lot more."
Yvonne Blackwood, parent of club member 9-year-old Anna, said, it is a big responsibility for the parents and children.. She added Anna loves horses, so her parents help out any way they can.
Kelly Yoder Smith and Bunn were on island for the annual week-long summer camp where children get intense training and an introduction to the world of horses. Smith grew up on St. Croix and was a member of the Pony Club. They are both members of the Sunshine Region Pony Club in Georgia, under the United States Pony Club. The St. Croix Club is part of the Sunshine Region.
The club, located on 50 acres near Spratt Hall, is partially wooded (perfect for trails), with open land for fenced rings and pasture. The dozen horses and riders find protection from the blazing sun in the shade of huge spreading rain trees. Bob Merwin has an agreement with the club for the use of the land. Merwin's late wife, Jean, was among the founders of the club and his daughters were members.
The book-work portion of the club, which is 50 percent of the program, is done at a table in a rustic covered shelter area with one wall holding shelves lined with books and supplies. The child joins Pony Club as an unrated member and progresses through different ratings. Children are tested and placed according to experience.
Groups of children and their horses were scattered about the grounds during the summer camp last week. They were jumping, trail riding and doing dressage. Others were learning the care of tack and cleaning hooves. The older members helped the newer members and campers.
The beginners were getting hands on lessons on grooming the horses coat, mane and tail. They looked for ticks and learned the proper procedure for removing ticks. The horse, called Muchi, an old rescue thorough bred appeared to love all the attention, especially the brushing.
The children lease horses or share ones they own with others. They are all responsible for taking turns feeding and exercising the horses daily. The club holds around 40 meetings a year, including mounted clinics, mock hunts, rallies, horse trials, and dressage competitions. Older riders qualify for championships, and head off-island to compete on borrowed horses. Skeoch said many of the riders have gone on to compete internationally and have been successful in horse-related careers.
Ariel Bauman, D.V.M., practicing at Progressive Veterinary Center and longtime member of the Pony Club, said the club definitely shaped her career choice.
"I was always right behind Dr. Deller watching what he was doing with the horses and learning about common problems he treated."
"Pony Club teaches more than just riding," Bauman said. "They teach health care and very intensive health maintenance."
"When the club was started just about every child on st. Croix had a horse," Skeoch said. "It was a means of transportation. Kids didn't have cars then."
Skeoch, still very active at 73, said there wasn't even a feed shop on the island. She said children needed the opportunity to learn how to ride and care for horses properly so the club was formed by friends who loved horses and enjoyed riding on St. Croix. She added they have had up to 90 members.
Sierra Van Allen, who recently moved to St. Croix, said being in the pony club has been an experience she wouldn't trade for anything. "I've learned how to get along with others. And the opportunities to learn about horse care are great," Van Allen said.
For more about the club visit stcroixponyclub.com.