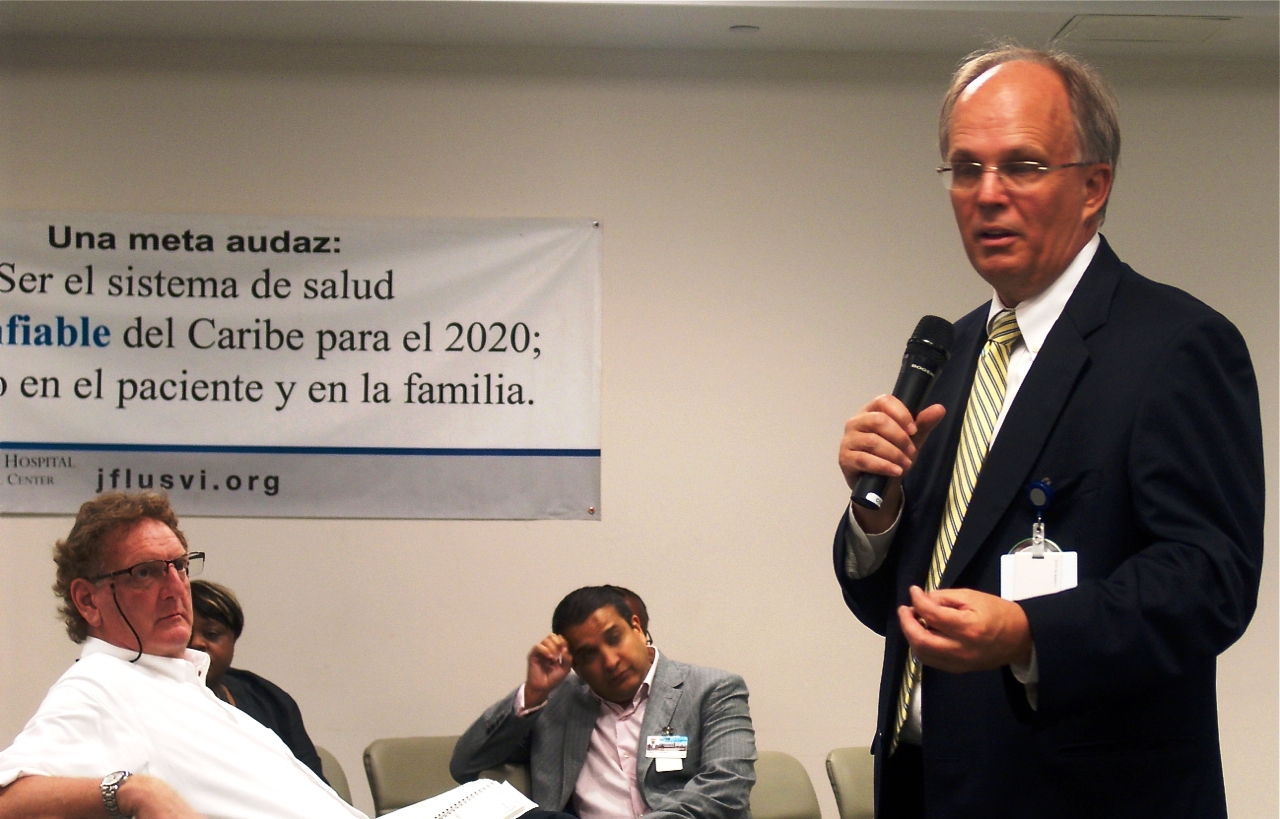 One of the biggest problems facing Juan F. Luis Hospital in seeking solutions to its financial problem is convincing people the problem is serious, according to some who attended a community forum Thursday night.
"I've never heard anyone ask 'What if it closed?'" said Richard Smith. "There's always an assumption that someone will come up with something, that it's not going to close. Is it going to close?"
Jeff Nelson, the hospital's chief executive officer, took the microphone, paused and then said, "Could it close? Yes, the answer is yes. Is there anyone here who wants it to close? No. The answer is no."
About 30 people were on hand for the forum, which was designed to draw community input on possible changes in the hospital's operation.
The JFL board asked a week ago for the management team to report on options for how the hospital could acquire an infusion of capital to help pay off more than $30 million in debt and help with $44 million in long-overdue equipment and facilities updates in the coming years.
The Rev. Kathryn Love said the people in the room needed to go out and spread the word that the hospital is in immediate need.
"Somehow this community has to be set on fire," she said.
The hospital's debt has accumulated over time and has reached a point where it can't function much longer. Companies that advanced credit over the years for needed services and products "are at the end of their ropes" in trying to collect, Nelson said. Those companies have their own employees to pay, and without JFL being strong enough to fulfill its financial obligations, they can't do that.
"We are a community, we're all in this together," he said.
For those who are interested in the hospital's future but did not attend the forum, it's not too late to take part, Nelson said. An online survey has been set up for additional input.
The survey asks community members to rate from one to four, with one being the lowest and four the highest, a series of issues that hospital officials should keep in mind while seeking a partner that can help it out of its financial morass.
The survey can be found at https://www.surveymonkey.com/s/JFL_PartnerCriteria
The executive committee has also had discussions with businesses, investors, physician groups and others, and some have come unexpectedly with interest in helping, Nelson said.
He described options being considered as including:
– Seeking an infusion of cash from the government of the Virgin Islands. This has always been the preferred option, he said, but the government has made it clear there is no cash to be had.
– Borrowing through normal financial channels, such as banks. Nelson said the hospital's financial statements worry bankers, and even though they can point to an improvement in cash flow, with two months in a row of taking in more than they spend, that's not enough to allay concerns.
– Borrowing from more high-risk lenders. Because they accept higher risk, the money would come at a higher rate. Even then, lenders are leery of the hospital because of its financial records.
Nelson said the hospital's executives continue to meet with these lenders.
– Another option is one of a variety of hospital management companies. There are several showing interest, Nelson said. These are companies that manage hospitals around the country.
In this case, the facility would continue to be owned by the government and overseen by the board appointed by the governor and approved by the Senate. The company would bring in its own officers and would manage the hospital under the board's direction. They would also bring in an infusion of capital to clean up the debts.
The hospital would remain a not-for-profit and would continue to provide service to anyone regardless of need, Nelson said. The companies also tend to be not-for-profit, but he pointed out that even a not-for-profit has to make enough money to pay its bills, including the debt, and that would be part of the return to the management company.
Nelson also noted that he'd likely be looking for a partner that would replace him, but said his goal isn't to create a job for himself for the long term; it's to make sure the hospital is here for the community for the long term.
In answer to questions from the audience, Nelson said the hospital has gotten more aggressive in collecting debts owed to it. In May more than 9,000 bills were sent out, he said, more than ever before.
The executive committee's report will be sent to the board next week, Nelson said. He did not know if or when the board would meet to discuss it.