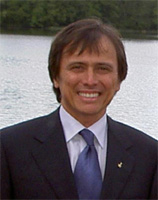 From his native Costa Rica to space, former NASA astronaut Franklin Chang Diaz has seen a lot in his 62 years. He's on St. John to serve as the keynote speaker at Gifft Hill School's Thursday graduation, where daughter Liz Kinsella is the school's upper school dean, but Diaz discussed myriad topics with the Source.
His biggest concern is what will happen to the earth he viewed from above during his seven space shuttle missions for NASA.
He said that with the population estimated to be 10 billion by mid-century, earth will have no room for growth. Diaz sees space as the place to look for the future.
"The limits of the planet are quickly being reached. It's a very bleak future if we don't do something," he said.
"There's no way we can avoid expanding into space," he said.
In addition to exploring space, he also scuba dives to see what's below the surface.
"I have been seeing a great deterioration in the depths," he said. "There's a lot of trash in the ocean."
Space exploration has changed since the astronaut first joined the program. He said that in those days, governments funded exploration, but today it's private industry that's leading the way.
"This is the wave of the future – working in orbit and on the moon," Diaz said.
Speaking about what it was like to look at earth from above, he said it was the most beautiful thing he ever saw.
"It's almost a religious experience," he said.
Growing up in Costa Rica, Diaz, like many children around the world, was fascinated by early exploration of space.
"The launching of Sputnik was a call to action," he said, referring to Russia's 1954 launch of a satellite into orbit.
By the time Russia put the first man into space, Yuri Gagarin in 1961, he knew was charting his future.
Space became his dream but in order to realize it, he moved to the United States. He moved to Hartford, Conn., because distant relatives lived there and would give him a home. He learned English by repeating his senior year at Hartford High School and got a scholarship to the nearby University of Connecticut.
"That was the moment that opened the door to the American dream," he said.
Diaz went on to get a doctorate in plasma physics from Massachusetts Institute of Technology.
After getting his U.S. citizenship, he worked in private industry. In 1979, NASA announced it was looking for a new set of astronauts and Diaz applied. He was one of three out of 3,500 selected for the program. In 1980, he became an astronaut.
Diaz now owns Ad Astra Rocket Co., an advanced rocket technology company with operations in Texas and Costa Rica.
He said along the way he learned some important lessons.
"Keep trying, don't give up, work hard, and believe in yourself," he said.