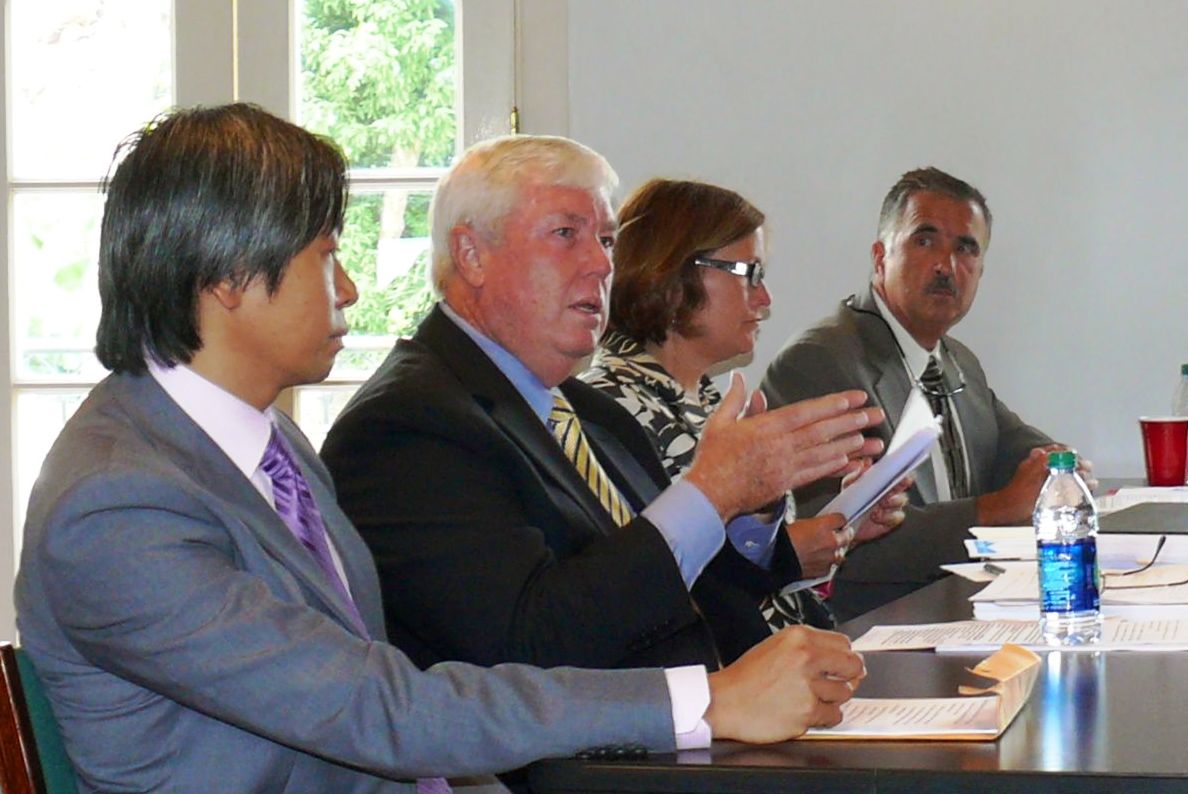 Seven Seas Water, the company making and running reverse osmosis now supplying nearly all of the V.I. Water and Power Authority's potable water in both districts, made their case for receiving broad V.I. Economic Development Commission tax breaks, Wednesday at a public EDC hearing in Frederiksted.
While making his pitch, Seven Seas President John Curtis emphasized that the water company had long-term contracts in the territory, was currently hiring and training local people to work on its equipment, and had plans to make roughly $34 million in additional capital investments in upcoming years.
The company plans to hire 14 local employees and two interns in the next year or so, he said, asking two company employees to stand up and be recognized.
Curtis said he was proud his company was providing clean drinking water to WAPA at $4.77 per thousand gallons. The cost is roughly a third of what WAPA is able to generate the water for, with its antiquated distillation system, according to data from WAPA.
Under questioning from EDA Executive Director Percival Clouden, Seven Seas officials confirmed their contract with WAPA includes getting electricity from WAPA for the RO plants at no charge, and leasing land at the nominal rate of $10 per year.
Economic Development Commission member John Lewis asked whether the company's contract with WAPA included the expectation that the company would get EDC benefits.
"The request from WAPA was for the lowest price possible, and we examined every opportunity to lower costs," Curtis said in response. Asked later to clarify whether that meant EDC benefits were part of the company's contract, Curtis said the contract stipulates "any tax incentives will not be shared with WAPA but will adhere to Seven Seas." He confirmed this meant the contract and sale price did not anticipate tax benefits.
"If EDC benefits are not granted, what is the impact on your contract with WAPA?" EDA Secretary Lynn Millin-Maduro asked. (Millin-Maduro is also Property and Procurement commissioner.)
"We will still go forward," said Fred Hung, vice president of business analysis for Seven Seas, "but obviously EDC benefits factor into contract projections."
The EDC took no action Wednesday on Seven Seas' application.
In other business, the EDC heard from two beneficiaries who are not meeting the local hiring requirements of their tax benefit certificates, with staff recommending a temporary suspension of benefits until the companies come into compliance.
The St. Thomas financial services company AVIsco was granted EDC tax breaks commencing in 2006, and was required to hire at least ten full time local employees and make at least $100,000 in capital investments, according to Margarita Benjamin, EDA applications director, who testified before the commission.
As of late 2010, the company had made about $1,103 in capital investments and had hired no one, Benjamin said, adding that it has received "in excess of $500,000" in EDC tax breaks to date.
Acting as a hearing examiner for the EDC, attorney Henry Smock said the company now has five employees, which AVIsco attorney Erika Kellerhals confirmed. In asking benefits to be continued, Kellerhals pointed to recent hirings and charitable donations. She said the company had internal difficulties, but now had new management and was making good-faith efforts to come into compliance.
She also suggested the number of required employees was too high, because the business did not actually need that many employees.
"The nature of consulting now is such that there is not the huge requirements for labor," Kellerhals said. "We meet with new investors every month, trying to get them to come down – but the minute we say 10 employees, companies say 'I can't do 10; I'm going to go to the Caymans,'" she said.
Albert Bryan, EDA chairman, said the staff recommended suspending the AVIsco benefits for one year, giving them the opportunity to become compliant. If the company supplied proof of compliance, the certificate would be reinstated retroactive to the beginning of the year and "it would be like this never happened," Bryan said.
A company named 567SGTB, run by William Smith, was also defending its certificate. The company provides financial consulting services and is in the process of rebuilding the old South Grape Tree Bay hotel, with plans for 18 rooms.
The company is making large capital investments, and has already spent nearly $4 million, with plans to continue spending according to Smith and company employee Anita Roberts. To date, the company has received about $316,000 in tax benefits through the EDC program, Roberts said.
But 567SGTB has not hired 11 local employees, as required by its certificate.
Smith and Roberts argued that the hotel was not ready to open and if it opened shortly, with the current economic climate, it would lose money right away. They asked for a two-year extension of benefits.
Staff recommended suspending benefits now and if the company can demonstrate it has come into compliance by the end of 2015, reinstating benefits retroactively to the beginning of the year it comes into compliance.
No votes were taken. Members present were Bryan, Lewis, Millin-Maduro, Randolph Allen, Henry Smith and Jose Penn.