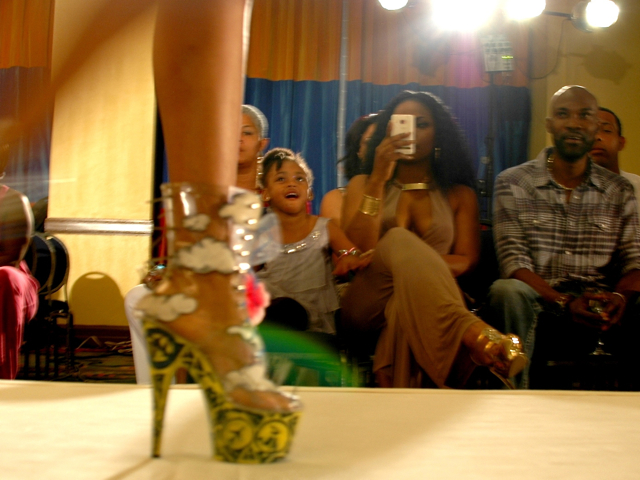 Cameras flashed and spectators hooted as a sea of models strutted down the stage at Saturday's Caribbean Catwalk, which defied traditional runway rules of race and couture practicality.
The show at Frenchman's Reef Marriott was one of two held over the weekend as part of V.I. Fashion Week. The brainchild of St. Kittian Henry Marsham, V.I. Fashion Week brings international designers, models and journalists to St. Thomas. Supporters such as the V.I. Tourism Department, which paid for several out-of-territory reporters to attend the events, hope it will help make St. Thomas a fashion destination.
Unlike New York's recent Fashion Week, which was criticized for its almost complete reliance on Caucasian models, all but one model here was black. Marsham said the professional models traveled from as far as New York City, New Jersey and Washington, D.C., while others came from Caribbean destinations.
New to runway work was Nicole Galiber, 17, of St. Croix. As she waited backstage for her chance on the catwalk, Galiber said all of her expenses to participate – including meals, travel and hotel stays – were being covered by Fashion Week.
"I love being around all of the beautiful people," said Galiber, whose simply cut short dress sported a complicated pattern of color blocks in lime green, bright yellow and hot pink.
While some of the creations were not suitable for everyday wear (think nail-studded platform wedges and brown breastplate tops,) many of the designers showcased clothes that could work just as well in downtown Charlotte Amalie as on the runway. Among those were the tailored dresses, suits and fedoras from Kola Zubair of Connecticut's KozbyWorld Fashion, and the Rasta-colored bikinis, skirts and sun dresses made on St. Thomas by Natural Livity.
Omega Rising of St. Croix showcased lightweight, batiked dresses and skirts that would be comfortable even in the territory's late-summer heat.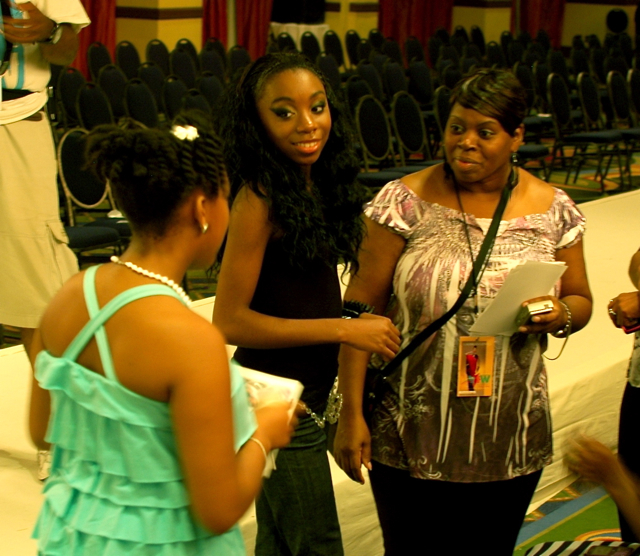 Central to the sartorial scene was 11-year-old Diva Davanna, who has been tutored by Tyra Banks, walked in New York Fashion Week and reached "supermodel" status, according to Marsham and other event organizers. Wearing glittered red pants, tall heels and a unfailingly serious gaze, the New York resident made several solo treks down the Reef's runway to the audience's great delight.
Saturday's soirée was not without a few hiccups. The bright runway lights went off and on several times, as did the soundtrack. The crowd was small, but it grew as the night went on, and its members were devoted.
Sharron Helm, a guidance counselor at Bertha C. Boschulte Middle School, brought along seventh-grader Diamond Lewis, who wants to be a fashion designer and was thrilled to meet Davanna after the show.
Helm and her charge left invigorated by the runway models and designers who had brought high couture to their hometown.
"It's beyond awesome," Helm said.