Marking at least her third trip to St. Croix, Hope recently flew down from Canada to avoid the coming cold weather and soak up the Caribbean sun in time for International Migratory Bird Day.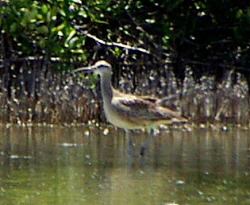 Hope is not really a snowbird, and she doesn't return every winter to rent a house and play golf. Hope is a small, female shorebird called a Whimbrel, which research biologists captured and fitted with a solar-powered satellite transmitter in 2009.
Scientists have been tracking Hope's every movement ever since, marking every stop on the bird's immense migration from the Hudson Bay to St. Croix's Great Pond. She arrived at Great Pond Sept. 14, after a long, exhausting flight, marred by turbulence from Tropical Storm Maria.
If you want to hear about Hope's trip, come to UVI's Melvin Evans Center, Saturday evening at 7 p.m. Conservation biologist Fletcher Smith will discuss the ecology and satellite tracking of Whimbrels, with lots of information about Hope's travels, her stops in Cape Cod, on Virginia's Eastern Shore, and her relaxation plans for the winter. There is no fee, but seating is limited, so please reserve your space early.
This will be one of several bird-related activities put on by the St. Croix Environmental Association, National Park Service, U.S. Fish and Wildlife Service, and others in honor of International Migratory Bird Day (IMBD).
"IMBD celebrates and brings attention to one of the most important and spectacular events in the Americas—bird migration. Bird Day is celebrated in Canada, the United States, Mexico, Central and South America, and the Caribbean," according to the Environment for the Americas website.
IMBD officially takes place each year in the U.S. and Canada on the second Saturday in May, and in October in Mexico, Central and South America, and the Caribbean each year, according to the website.
National Park Service guides will also lead a Salt River natural and cultural history hike earlier Saturday, from 3 p.m. to 5 p.m. Sturdy shoes and water to drink are recommended. Meet at the Salt River Bay National Historical Park and Ecological Preserve Visitor Contact Station above Salt River Marina promptly at 3 p.m. Everyone is welcome, free of charge, donations appreciated. Registration is required.
Sunday morning from 6 to 10 a.m., U.S. Fish and Wildlife Service is holding what it calls "The Big Sit" at Sandy Point National Wildlife Refuge. Participants will learn about the incredible journeys of migratory birds and enjoy the early morning beauty of Sandy Point. The Big Sit is a quiet, sedentary birding activity, as all observations are made from within a 17-foot diameter circle. Please bring drinking water and appropriate sun protection.
If you want to see Hope in person, Smith and SEA will be looking for her and other birds around Great Pond Sunday at 3:45 p.m.
Call 773-1989 to find out more and to register for any of these events.
For more information on Hope and other satellite tracked Whimbrels or International Migratory Bird Day, visit the related links below: