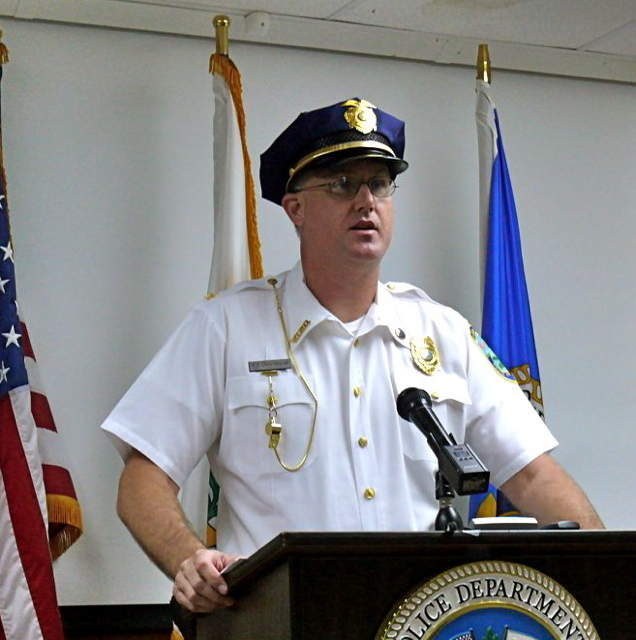 Police will be systematically going after curfew violations since a melee on the Christiansted Boardwalk after Jump Up Friday left one teenage girl dead, five bleeding and two charged with first-degree murder, St. Croix Police Chief Chris Howell said Monday at a press conference.
Police have been enforcing curfew, despite sharp criticism and opposition from parents when they pick up their children, Howell said. But in the wake of the weekend's events, Howell said he has directed his people to create an operational plan to more systematically enforce curfew.
"It is due in my office before the end of the day today and will be implemented tonight," Howell said.
A series of fights involving high school-aged girls broke out at the end of Jump Up Friday around 10:45 p.m. The names of the two alleged perpetrators charged with murder have not been released by police because they are minors. They are in custody at St. Croix's Youth Rehabilitation Center.
Reading a prepared statement, Howell said there was a heavy police presence in town during Jump Up, but that almost no amount of manpower could have prevented the tragedy. Because the Jump Up was a planned function, police had assigned 14 officers to patrol Christiansted for the duration, he said. There were also another 32 officers, including Howell, doing saturated patrols in the area.
Asked about reports that police took 10 minutes or more to arrive, Howell said he personally was among the first to respond and officers were on the scene much more quickly than that.
"We had officers on the scene within very few minutes," he said. "It is possible people might not have recognized them." But they were there, and once the 32 officers from the saturated patrols arrived, there was a pronounced police presence, he said.
Police helped with first aid until ambulances and emergency medical technicians arrived, Howell said. But, as he did in initial reports on the incident, Howell again thanked two or three trauma nurses who stepped up and began treating the victims right away. The nurses asked not to be identified by name but deserve credit for saving lives that night, Howell said.
Asked to comment on reports the crowd was cheering on the violence, Howell said "that is the first I heard that." While the situation was somewhat chaotic and they had individuals who tried to breach the crime scene barrier, marked off with tape, "for the most part the people we were dealing with were sensitive to the situation," he said.
It was the 25th homicide in the territory since the first of the year, the 17th on St. Croix.
As gruesome and unacceptable as that is, it is a considerable improvement over 2010. This time last year, there had been 44 murders in the territory already, with 20 on St. Croix and 24 on St. Thomas. So far this year there have been 28 murders, with eight on St. Thomas – 16 less than last year – and 18 on St. Croix. That's very high, but still two fewer lives cut short by violence on St. Croix than at the same time the year before.