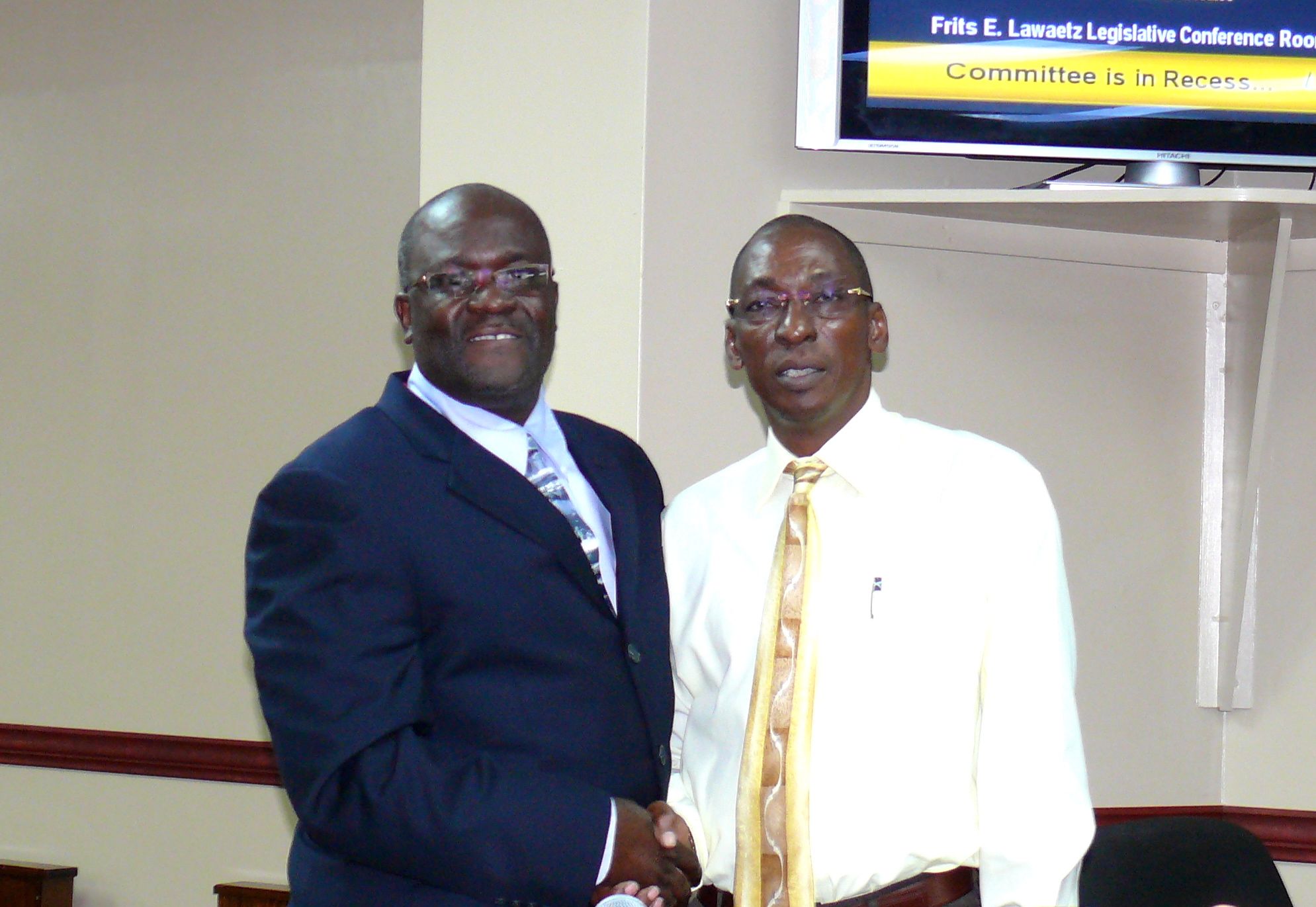 Former St. Croix Fire Chief Steve Brow, nominated by Gov. John deJongh Jr. to head the V.I. Fire Service, passed what Sen. Usie Richards called his "job interview" before the Senate Rules and Judiciary Committee Thursday, moving on for a final vote in legislative session.
If confirmed by the Senate, Brow will replace Victor Browne, who has assumed the leadership of the Law Enforcement Planning Commission.
Brow has served as acting fire director since the beginning of the year. Before that, he was St. Croix fire Chief. He has been with the Fire Service for more than 20 years, starting as a firefighter in 1990.
Several St. Croix notables took to the well to speak in support of Brow, and there was little criticism and no opposition to his nomination.
Assistant Housing Parks and Recreation Commissioner Pedro "Pete" Encarnacion—a former senator, career firefighter and himself a former Fire Services director—praised Brow's competence and humanity.
"I observed his intense physical and mental capabilities during his training … [and] his potential and desire to move forward and enhance himself within the ranking structure," said Encarnacion "But most of all I visualized his caring heart he showcased to help others above himself."
Sen. Usie Richards recalled that Brow's predecessor, Browne, was recommended for the post—despite a lack of Fire Service experience—because of his extensive business and administrative skills.
Richards said that with Brow's nomination, "we see the reverse"—a nominee with a great deal of firefighting experience but little business or managerial expertise.
"Were there complaints about the past director's lack of fire service experience?" Richards asked.
Brow said there had been some complaints at the rank-and-file level and, at Richard's prompting, agreed that his own nomination was something of a reversal of that earlier posture in favor of business acumen.
Richards asked if Brow would support moving emergency medical technicians and ambulance services into Fire Services. "So long as it doesn't threaten anyone's job, I am for it," said Brow.
Raised in Grove Place, Brow graduated St. Croix Central High School in 1984 and began his Fire Service career in 1990, rising to the rank of lieutenant when he was tapped by deJongh in 2007 to be St. Croix fire chief. In 1994, he was named V.I. Fire Service employee of the year.
As fire chief, Brow said he played a major role in acquiring two 85-foot ladder trucks; completed maintenance work at the Rencelair Gibbs, Emile Henderson and Herbert Canegata fire stations; and completed the mechanic's shop at Richmond Station.
Since becoming acting director in January, he and his management team have gotten the approval of the governor to promote fire personnel, despite the budget crisis and hiring freeze, he said. The promotions are allowable so long as he can demonstrate the promotions and pay raises are revenue neutral due to reductions in overtime and other costs, Brow said.
Voting to send Brow's nomination on to the full Senate were Richards and Sens. Carlton "Ital" Dowe, Ronald Russell, Sammuel Sanes and Celestino White. Sens. Alicia "Chucky" Hansen and Patrick Sprauve were absent.