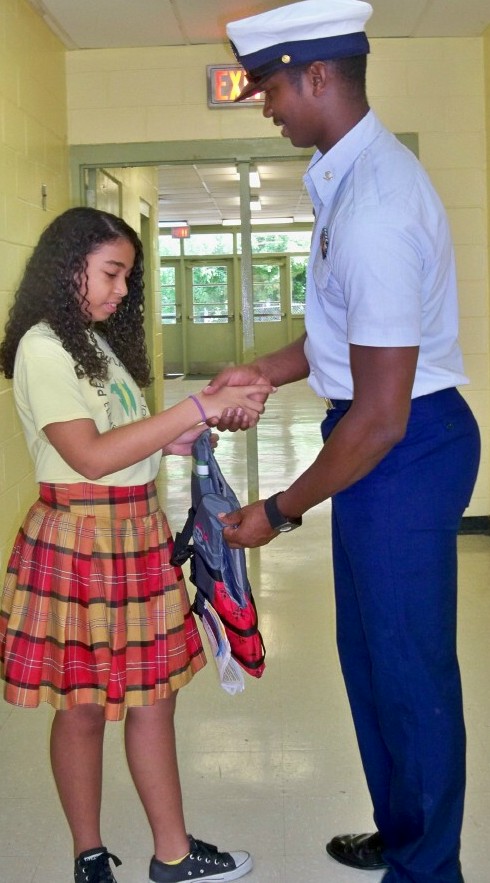 Joyce Contreras, a fifth-grader at Pearl B. Larsen Elementary School, has the distinction of having her drawing chosen for the cover of the U.S. Coast Guard's coloring book "Sammy the Sea Otter."
Contreras' work was chosen out of almost 700 student submissions in the 2011 National Safe Boating Week "Sammy the Sea Otter" Coloring Contest.
National Safe Boating Week began Saturday and ends Friday.
"I was worried at first I missed the deadline to enter," said Contreras Thursday during an assembly at Pearl B. Larsen. "I like drawing, and I felt like I had a chance to win; but I was very surprised to win."
She used crayons and markers to draw a picture of an otter wearing a personal flotation device (PFD) and sunglasses.
The contest was designed to provide teachers across the U.S. Coast Guard 7th District with an opportunity to engage their students in lessons regarding endangered species, environmental concerns, water safety and safe boating.
As part of the contest, students were encouraged to research the habitat and behavior of the sea otter, one of several endangered species.
The contest was open to students in kindergarten through sixth grade throughout the district, which includes South Carolina, Georgia, Florida, Puerto Rico and the U.S. Virgin Islands.
Contreras received $100 and two life jackets donated by the District U.S. Coast Guard Auxiliary.
Twenty-seven additional entries were selected for the rest of the coloring book. Twelve elementary schools participated, submitting 695 entries. There were seven U.S. Coast Guard Auxiliary flotillas that acted as program sponsors and one U.S. Coast Guard Station.
Lee Elvins, Vice Commander Division 16 U.S. Coast Guard Auxiliary and local sponsor, said the contest was challenging, and it was great to have a local girl selected as the winner.
"Joyce has talent, and her message is clear: that we must protect the environment," Elvins said.
A Coast Guard National Safe Boating Week event will take place Saturday on the Christiansted waterfront at 10 a.m.