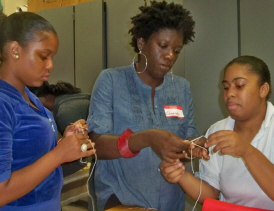 McKenzie's Way Symposium & Fun Day was billed as a "girly girl" affair for women and girls. And girly it was with participants wearing pink, making jewelry, learning belly dancing, and socializing.
Around 75 females participated in the affair Saturday in honor of Carolyn McKenzie at the St. Croix Career and Technical Education Center, where she was a guidance counselor. Organizers said they had 179 people preregistered but they suspect the heavy rains Friday kept people home.
McKenzie, while on the CETEC Parent Advisory Committee, was responsible for organizing a number of different programs for students and adults such as the annual Men's Carousel.
Cenita Heywood, media specialist at CTEC and organizer of the symposium, said she and Robin Clark, project event coordinator, decided to do something annually to remember McKenzie's 15 years of work.
"We called it McKenzie's Way because of the way she did things," Heywood said. "She gave in so many ways and she reached out and got the community involved." McKenzie is now living in St. Louis, Mo., but still has children and grandchildren on St. Croix.
The symposium to empower women and girls had something for everyone with programs and workshops that organizers hope lead to a successful future.
Volunteers gave hands-on workshops on gardening, tie-dyeing shirts, candle making, upholstery and more. Physical fitness was offered in a Zumba dancing class. Omar Henry, Red Cross volunteer, gave a presentation on disaster preparedness for families. Lisa Beck gave social dining etiquette tips in "Charm School." Carmelita Rhymer talked about aviation and what is involved in being a pilot.
Chenzira Kahina, project director of NU WOMAN Rising, spoke to the girls about health and wellness and touched on HIV/AIDS. Iria Stiles, art therapist from Inter Island Parent Coalition for Change Inc., gave information on how to utilize art for emotional wellness in early childhood.
Breakfast and lunch were served at the free symposium, awards were given to community members and there were chess and domino tournaments.
Inter Island Parent Coalition for Change Inc. and Inter-Ocean Insurance Agency were sponsors. Around 15 students of the CETEC Courtesy Corp. helped out at the affair.
"It was really nice spending time with my girls," said Jodie Donawa, who brought her three daughters. "We had fun and got a lot of good information."