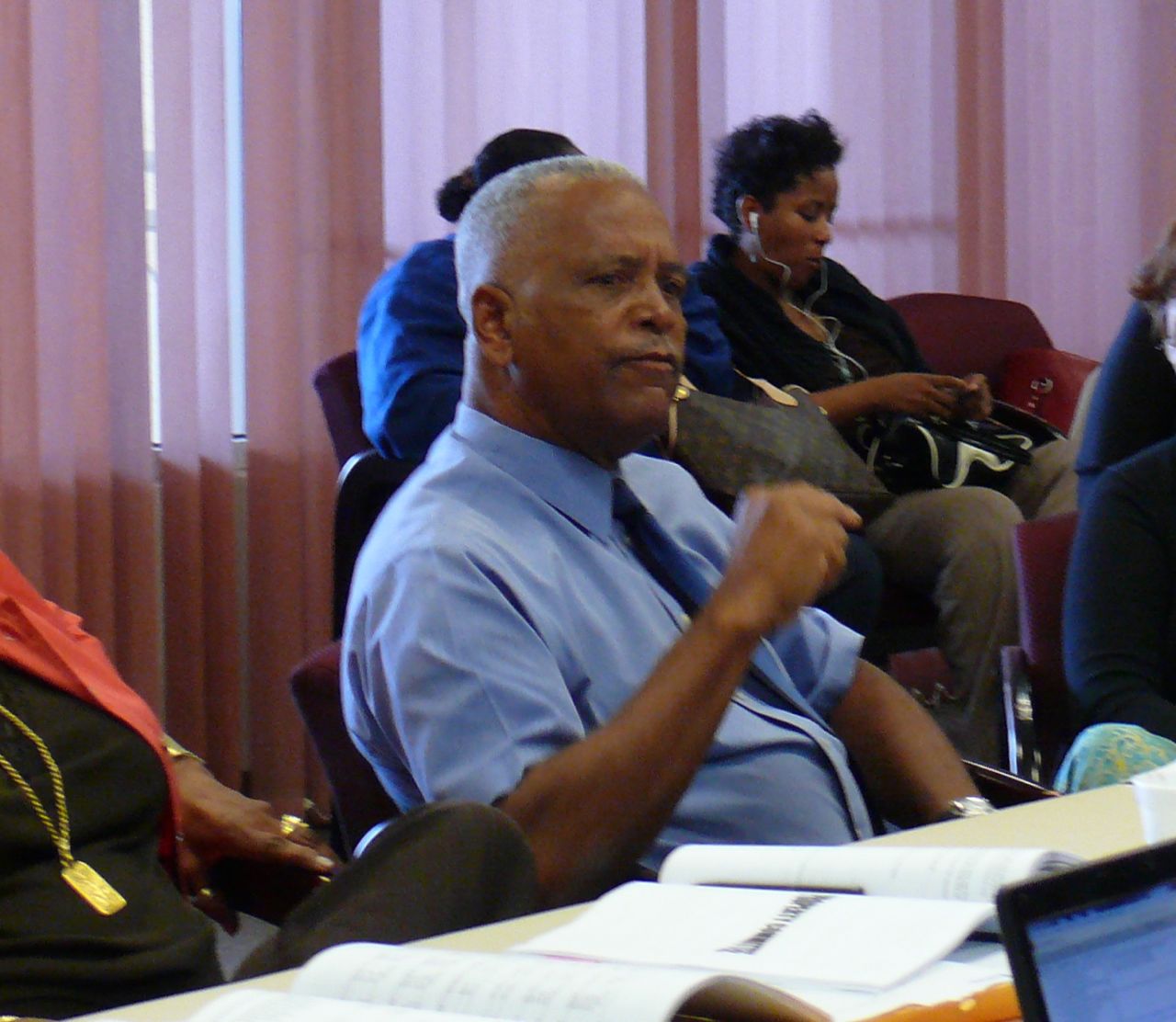 A chastened V.I. Port Authority Board formally voted Wednesday to rescind its decision last fall to evict the residents of the Bournefield housing complex and directed staff to formulate a more nuanced policy to address relocating residents of the damaged, flood-prone but inexpensive housing.
Bournefield residents have protested the eviction from the moment it was announced, saying similarly inexpensive apartments are very scarce on St. Thomas. The board previously extended the time for residents to depart. But as of the first week of March, none of the 42 families living in Bournefield had found alternative housing.
Instead of a mass eviction, the board members discussed returning to some variation of VIPA's previous policy of closing substandard units by attrition.
VIPA Assistant Executive Director David Mapp said he believed the way forward was to assess which units must be condemned, which might be repaired with a lot of effort, and which might be usable with lesser renovations.
After that, the question becomes how to temporarily relocate tenants from units while they are renovated and permanently relocating those whose homes are beyond repair, he said.
Labor Commissioner Albert Bryan, a board member, said any new policy that allows residents to stay in Bournefield should include measures to ensure VIPA is not legally liable for residents' safety while staying in substandard housing, a point also raised by Chairman Robert O'Connor.
To follow the law, some residents will simply have to be evicted if their homes are inspected and found to be unsafe, said board member Gordon Finch.
"If we are in compliance with the law, the question of liability should not be an issue," Finch said. "If the unit cannot be made in compliance, then it must be made uninhabited and condemned."
Finch moved that VIPA staff be directed to form a policy on Bournefield for the board to consider, amend and adopt.
The policy should aim to do three things: eventually convert Bournefield from residential use to VIPA use for airport infrastructure support, provide the board with maintenance and operational procedures so every occupied unit will conform to established living standards, and thirdly, give relocation assistance to Bournefield residents "wherever possible."
Attorney General Vincent Frazer said trying to relocate every resident, while also assessing every apartment and fixing many of them up would be very difficult and "onerous for the staff."
Board member Yvonne Thraen said she supported the general concept but was doubtful VIPA would be able to relocate everyone.
Voting yea were Bryan, Finch, O'Connor and Tourism Commissioner Beverly Nicholson-Doty. Voting nay were Frazer and Public Works Commissioner Darryl Smalls. Thraen abstained, and member Cassan Pancham was absent.
The board also established an overnight parking fee schedule and policy for Crown Bay Center. Commercial vehicles would pay $10 per night or $300 per month, while Crown Bay tour drivers will pay $240 per month. The fees will go to pay for overnight security at the lot.
In other business, the board:
— approved an $89,000 contract to design a fire sprinkler, pump and emergency power system for the Wilfred "Bomba" Allick Port and Transhipment Center;
— approved a change order, increasing the cost of rehabilitating the runway at Cyril E. King Airport by $387,000 to pay for a greater depth and degree of resurfacing than originally anticipated;
— approved a change order, increasing the cost of work at the Enighed Pond parking lot by $169,000, to address soft pockets that needed to be stabilized and other unanticipated work;
— approved several lease renewals and modifications.