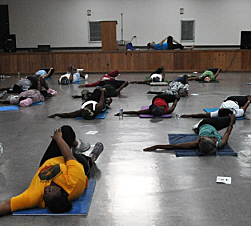 "Crucian time" did not seem to apply Saturday morning when a large and upbeat crowd showed up at Bassin Triangle in Christiansted at precisely 5:30 a.m. for a healthy walk to the D.C. Canegata Multi-Purpose Center as part of the 2nd annual Wellness Festival.
The Department of Housing, Parks, and Recreation and the Department of Health partnered with the Wellness Coalition to host the festival this year. The Wellness Coalition, made up of the V.I. Vegetarian Society, Inc., the Bamboula Haven Foundation, Inc., (BHF) and The V.I. Walking Group, Inc., was extremely pleased with the results.
"There was a really good turnout this year, much bigger than last year. We have a lot more participants," said Lynda Muhammad, director of the V.I. Vegetarian Society, Inc.
The free festival began Friday night at 6 p.m. with a panel of discussions focused on holistic health which covered diet, nutrition, and body care. Speakers included herbalist Ras Bobby Olivace from St. Thomas, Charlene A. Springer from Ready Personality, Olu Lee A. Massey from BHF, and Carlise Siedenburg from Re-Nu-Atum Spa. Their talks were followed by a question and answer session, and approximately 80 people participated in a lively discussion about the benefits of healthy living.
One reason for the added success is DHPR's involvement. Last year, they only provided the facility, but this year, they decided to add instructors from the Canegata center.
"We wanted to be more involved this year because we feel it's part of our strategic goals to keep the community healthy and fit," said DHPR Commissioner St. Claire N. Williams.
After the morning walkers arrived at the center, they were cheerfully greeted by Carmen Simmonds for a lively session of Aerobics to keep their hearts pumping. After a short break, Tanja R. McPherson led a one-hour yoga session for some 40 people.
"I am a big proponent of healthy lifestyles and with today's population struggling with so many diseases, I feel that supporting people on this journey into health is very important," said McPherson.
McPherson's soothing voice and manner brought a number of outliers into the fold; a number of them could be seen with their eyes closed and hands on their diaphragms, enthralled with breathing exercises.
Verona Marsh and Theresa Douglas, who came in third and fourth place in the walk, loved their first yoga experience and said that it completely relaxed them.
Following the yoga class, a free vegetarian Crucian breakfast was served, but was quickly diminished. Curried vegetables, natural juices and teas, and an array of delicious fresh fruits were gone in minutes, leaving a few hungry bystanders wishing they had gotten in line sooner.
From 10 a.m. to 3 p.m., numerous vendors focused on healthy lifestyles filtered into the center to give out free information, and conduct short workshops and seminars.
Dr. Alfred Anduze's office gave free glaucoma screenings, V.I. Care gave free H.I.V. blood tests, Ton-I Gillman offered a free ten minute sound healing therapy session, and Ariela Hayes conducted a short healing massage-like session focused on chakras.
The D.C. Center's After School Program had a small group of children entertain with a short display of their karate techniques. The program is free for children of all ages and is offered at the center from Monday through Thursday from 4 to 6 p.m., where children get free karate lessons, tutoring and homework help.
For more information on how to become a member of the D.C. Canegata Multi-Purpose Center, and for class schedules, please contact (340) 773-3954. For further information on the Wellness Coalition, and its affiliates, contact Lynda Muhammad at (340) 332-7434.