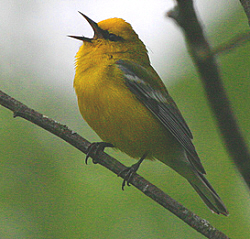 The numbers are in, and the hardy birdwatchers for the annual Christmas Bird Count covered more than 120 miles of St. Croix by foot, car, kayak, and motor boat, logging thousands of sightings and at least 77 species; on St. John, two rare species, the Puerto Rican flycatcher and the blue-winged warbler, were spotted among some 62 species.
Those numbers qualify as good results in the Dec. 19, 2010 count, according to Laurel Brannick, who organizes the Christmas Bird Count for the Audubon Society of the Virgin Islands.
"We're right on line with what's going on in the world," she said.
Jennifer Valiulis, who organized the Christmas Bird Count for an ad hoc group of bird watchers on St. Croix, said that the number of birds spotted came in right around the average for the past 10 years, but the number of species was higher.
That may not mean that more species were actually on-island. "Our observers are getting better at identifying bids," she suggested.
There is really no constant from year to year. Results depend on the weather, the skill of the counters and the number of counters, among many factors.
Brannick said that this year's numbers show that since the Christmas Bird Count first started on St. John some 30 years ago, the numbers are down.
Using warblers as an example, she said that these migratory birds must stop on their way south to feed. However, their usual stopping spots may now be a shopping mall, so they have to search for another place to land — and that can be dangerous.
"Warblers get picked off by cats," she said.
On the plus side, the fall's heavy rains filled ponds. This made them attractive to birds like grebes, coots, morhens, and ducks, which like deeper water so they can dive for the aquatic vegetation they like to eat. Additionally, she said that the presence of V.I. National Park, where she works as education coordinator, helps protect the bird's habitat.
This year, 42 people counted birds on St. John. Brannick said that one of them, Rob Norton, is a very experienced birder who used to live on St. John. She said he hiked the Reef Bay trail, and spotted the Puerto Rican flycatcher and the blue-winged warbler.
The participants went all over St. John to spot 2,142 birds from 62 species.
The 10 most numerous birds by species were gray kingbirds with 422 spotted. Brown pelicans came in at 345, which Brannick said is 3 times 2009's count. Bananaquits totaled 294.
Lesser Antillean bullfinches numbered 111, which is two times last year's count. Spotters found 110 Zenaida doves, compared to only 67 last year. Pearly-Eyed Thrashers numbered 90, up from 64 last year. The number for white-checked pintails hit 70. The number of brown boobies stood at 59, up from 35 last year. Black-faced grassquits numbered 51 and Antillean crested hummingbirds, 46.
The rare bird sightings this year also included two ruddy ducks.
New sightings this year included the Chuck Wills Widow, the clapper Rail, the sanderling, the sora rail, the least sandpiper, and the killdeer.
The highest count for a species in St. John's recorded history from this year's count include the American kestrel with 42, blue-winged teal with eight, Caribbean coot with five, cattle egret with 45, osprey with five, and the yellow-crowned parrot with six.
On St. Croix, 31 counters spotted 4,095 birds from 77 species as well as a number of unknowns where the observer couldn't get a clear enough look at the bird to identify it or just didn't know what it was, Valiulis said. The highest number of birds were gray kingbirds, with 375 of them seen by counters. They saw 371 cattle egrets. The lowest were the sanderling and the common yellowthroat, with one each spotted.