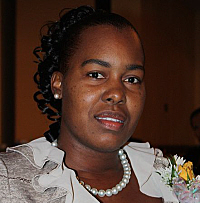 As humble as she is hard-working, Daniela Roumou says being named the 2011 V.I. Teacher of the Year is not just about her accomplishments, but about all the dedicated teachers in the territory trying to make a difference in their students' lives.
"I am by no means the best teacher in the district," she said Friday evening at a recognition dinner held on St. Thomas in her honor. "I'm rather a standard symbolic of those many dedicated teachers who share this passion with me."
Roumou said she first knew she was meant to be a teacher in the fifth grade and took inspiration from her own experiences in the student's desk. She said her own professors inspired her with their teaching philosophies and pushed her to "go beyond the norm."
"It was in middle school also when my principal asked me to tutor her children," Roumou said. "That was a major honor, and things just went on from there." Roumou said she tried her hand at other professions, but said there is something "special" about teaching and helping the children within her community.
Her own teaching philosophy — that "every learner can learn, and it's up to us to really touch the heart and awaken the dreamer in them" — is part of what got her noticed by the principal at Lockhart Elementary School, where Roumou teaches fourth grade.
Roumou said she was notified a few months ago that she had been recommended as a candidate for the district teacher of the year award, which she also received last October.
"I completed the package and answered all the questions, and it just went from there," she said. "Now, everyone's talking about me and what I've done, but it's not about me. It is about the students, their families and all the other wonderful individuals working out there that are sometimes too quiet to be noticed."
Roumou also credited her mentors in education, as she worked within the V.I. public schools over the past few years.
"When I came into the department, I was mentored by a lot of people who provided me with all the tools necessary to make sure my journey as a teacher was a success," she said. "And throughout the past five or six years, I have tried my level best to carry out my duties according to the standards they set for me."
Roumou has also taught at Ulla F. Muller Elementary School and Leonard Dober. She received her degree in elementary education from the University of the Virgin Islands.
As the territory's teacher of the year, she will also be honored nationally, and will travel to Washington, D.C., to meet President Barack Obama.