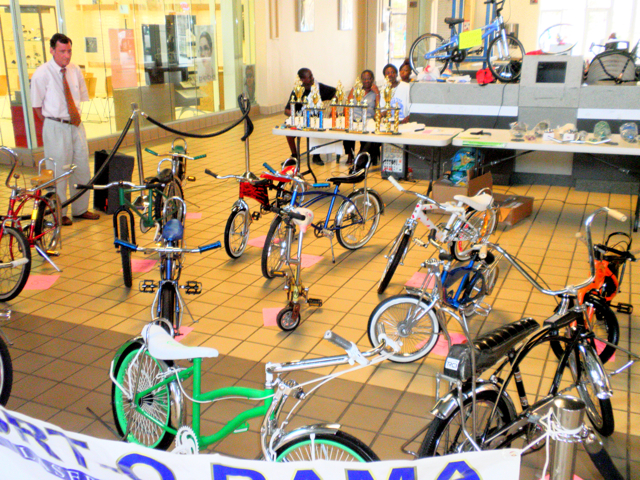 Custom bikes filled the west section of center court at Tutu Park Mall Saturday afternoon, but the riders were not big men in black leather. They were young men in white Sportorama Bicycle Show T-shirts.
Curtis Gilpin of Sportorama organized the show for youths to display their custom decorated bicycles. About 15 bikes were entered in the judging and several more were around the display area. Bikes were judged in four categories: Shiniest, Best Paint, Most Original, and Best Overall.
The bicycles ranged from original Raleigh three-speed choppers to a miniature folding bike with a "springer" rear suspension and about five-inch wheels. In addition to custom paint jobs, the special touches included raked front forks, lowered seats and custom pedals. Some entrants also featured super-chromed wheels and thoughtful touches of lights, color and chrome details.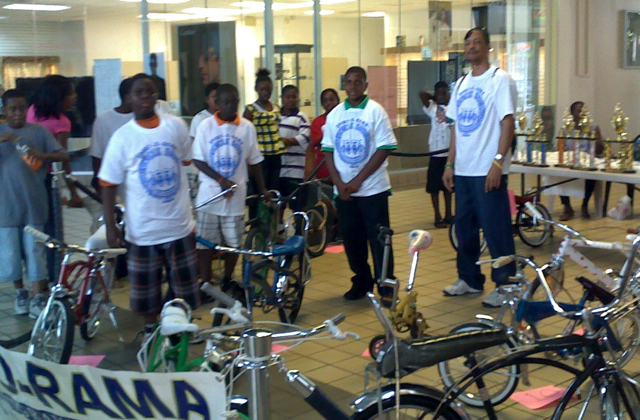 Family and friends took pictures as boys stood by their bikes. The young bikers were not the only ones enjoying the show. Many of the adults gathered around the show were exchanging stories of their days as young bike riders in St. Thomas.
"You can tell a real St. Thomas bike rider by the shoes," went one story. "When you have a smooth band worn across the bottom from using your shoe against the back tire for brakes, that's a real St. Thomas rider!"
Subway restaurant supplied sandwiches and drinks for the entrants, and Caribbean Screen Printing produced the T-shirts. Trophies, some of which looked almost as big as the contestants, were provided by Sportorama.
Several judges graded the bikes on display, with the following results:
Shiniest Bicycle – Mariano Aubain #12
Most Original – Marie Ottley #8
Best Paint Job – Gain Ottley #10
Best Overall Appearance – Antonio Ottley #7
Best Ragga (People's Choice) – Ajaye Thompson #16