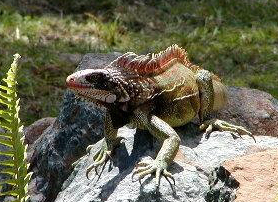 Look, what the heck is that? Certainly not a sleigh with eight tiny reindeer, a week late.
No, look again: It's our old pal, Idle, arriving on what appears to be a flying sea grape tree. He has clout, our iguana does.
What is up with this highly creative method of transport, Idle?
"Well," he says, "I wasn't going to come at all this year. I've been so discouraged by the behavior I've observed, that after the election, I just couldn't take any more. I took my tree and simply directed it elsewhere.
"Mind you, I was pleased with the governor being re-elected, but the aftermath sent me scurrying. Whatever happened to statesmanship? Or simply a courteous and adult, 'I concede. Congratulations'"?
All things considered, Idle admits that like it or not, the Virgin Islands is his home and not so easily abandoned. So, in the interest of fealty to his community, and often with tongue firmly planted in reptilian cheek, here go his wishes for 2011:
— earmuffs for the 14 senators and staff who will be obliged to, once again, listen to the anything but dulcet tones of Sen. Alicia "Chucky" Hansen;
— a complete jungle gym set for Legislature Executive Director Lolo Willis, to install on his beach, La Playa Legislature;
— an early warning system, sort of like NORAD, to alert the governor to prowlers in his neighborhood;
— a grants witch to wave a magic wand and keep our federal funds here in the territory. (Or several helpers to do the same thing by working at it)
— the end of phase I of the Long Bay road project
— a start on the renovation of the St. Thomas waterfront apron. The subject of endless and expensive studies, it remains a pockmarked eyesore, an insult to our beautiful harbor. I would happily sun myself there, if there were foliage to munch on;
— in the same vein, lets finish the renovation of Fort Christian, a disgrace for the whole Virgin Islands;
— now that we have an Animal Cruelty bill in place, let's put some teeth in it. The one case that went to trial on St. Croix was laughable, a disgrace. If anything, it deterred more cases proceeding to court;
–a legislative body that has the political will to do something for the people who elected them;
— continued best wishes to community activists. (This is taken from my 2006 wishes.)
— a grandopening for the new library in Tutu;
— a permanent staff for the Dorothea Fire Station;
— open books for government entities.
The other day, I hopped over to St. John. My goodness, how about:
— a solution to Cruz Bay's never-ending parking woes.
— continued dry weather so Coral Bay's hillsides don't keep slip-sliding away.
— St. Thomas-based government officials to do what St. John residents want when it comes to development, not what they think is best.
While engaged in hopping, I hopped a seaplane to take a look at St. Croix. Well, let's hope for: all the flood-damaged roads on St. Croix repaired before 2011 ends;
— the Vincent Mason Pool reopened soon;
— a whole year with no one being caught stealing from the public till;
— the reopening of the Frederiksted Health Center.
They say be careful what you wish for, lest it come true. But, I have an answered prayer I went out on a limb for (ha ha – um, excuse me). This is from 2008:
— a phone company that provides dial tone, repair service, bandwidth and connectivity for all instead of million dollar Camille Pissarro paintings, diamonds, Bentleys and jets for a very, very few. I'm giddy in anticipation of this actually happening and soon.
Meanwhile, we at the Source have our own wishes that, sadly, remain the same:
— that this year's Kids Count shows a decrease in children living in poverty;
— that we never have to report that a young person has killed or been killed by another young person;
— that we never have to report that a woman was killed by her domestic partner;
— that we never have to report that anyone was killed, period.
And, finally, we pay our respects to the late Sen. Lorraine Berry, who has taken our jabs in the past with the humor that was intended. It has been five months since her demise, and her absence in the political and civic life of the community is felt by all she touched.