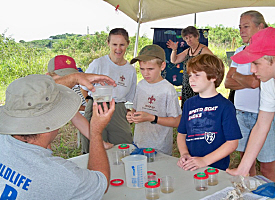 When nature's fury subsided Saturday and the rains let up, the St. Croix Environmental Association (SEA) helped residents enjoy her bounties in a "BioBlitz" of the Southgate Coastal Reserve.
SEA staff and a host of volunteers spread out across the reserve to catalog as many plants and animals as possible in one day. A wetland bird survey was led by Carol Cramer-Burke and a botanical walk was led by Brian Daley.
Daley, from Geographic Consulting, a planning and landscape design group, explained to the nine people on his walk about how the botanical landscape at Southgate has changed since the arrival of the Europeans. He also took the walkers to sites where SEA is working to eradicate invasive species and bring back native trees and shrubs to the area. All along the walk he identified plants explaining whether they were native or exotic, and if exotic, how they ended up on St. Croix.
"It was a very interesting walk, even though there was a lot of water to walk through," said Tricia Daley, from Massachusetts, visiting her son Brian Daley.
Cramer-Burke, SEA program director, was excited when six birders spotted a great black-backed gull, the first one seen at the reserve, and added it to the list.
William Coles and John Farchette told children and adults about the life cycle of bugs, little fish and crustaceans found in Southgate pond, located on the reserve.
William 'Toby' Tobias, scout master of Boy Scout troop 227, had a large net for seining that boys threw out into the sea looking for fish, crabs and buried treasure. Over a dozen youngsters also enjoyed educational exhibits on sea turtles and environmental games from 9 a.m. to 4 p.m. under a big white tent set up near the entrance road to Southgate.
Renata Platenberg, Jen Valiulis and Claudia Lombard conducted the first ever bat survey at the reserve, once it got dark, using lightweight "mist nets."
The information generated by this effort will be used to build upon the studies done at the Reserve in 2004 by Coast and Harbor Institute. Cramer-Burke said the information gathered will enable SEA to better enhance and improve various habitats at the reserve.