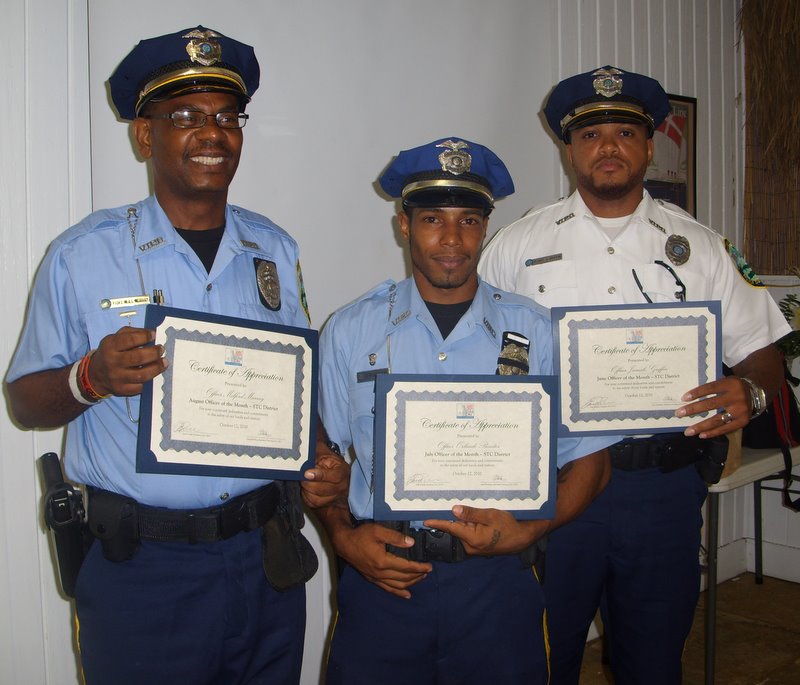 The St. Croix Hotel and Tourism Association honored three V.I. Police officers for their dedication and professionalism this week at the Caravelle Hotel on St. Croix. The three officers—Jamale Griffin, Orlando Benitez Jr. and Melford Murray—were named St. Croix's June, July and August police officers of the month by their peers.
"These officers personify the admirable qualities found in so many V.I. police officers," said Police Commissioner Novelle Francis in a department statement. "However, the selected officer's accomplishments in that particular month were far above the parameters of the job …. I am proud to honor them and I thank all of our officers for the good work they do for the community on a daily basis."
Griffin is assigned to the Wilber Francis Zone B Command. In June the field training officer made a felony arrest that included charges of unauthorized possession of a firearm and ammunition, simple possession of a controlled substance, destruction of property and domestic violence. Griffin also arrested a suspect on aggravated assault and battery charges despite being assaulted with a household item and nearly being run over with a vehicle driven by the suspect before he attempted to flee the scene, according to the police department.
In another arrest, Griffin confiscated a firearm, marijuana and a large quantity of ammunition.
Benitez is assigned to the Christiansted Bike Patrol. In July, Benitez was assigned to six cases, wrote nine supplements, issued three traffic citations and executed six arrests — four during his tour of duty and two while he was off duty. He dealt with a stalking, disturbance of the peace, execution of a warrant, a grand larceny and two cases of unauthorized possession of unlicensed firearms. The firearms, a .40 caliber and a .9 mm, were found to have live rounds in the magazine.
Benitez joined the force in early 2005 and has displayed exemplary service to the community and the department, according to the VIPD statement.
In August, Murray handled 29 cases and followed up on eight of those. He issued 10 citations, made eight arrests, including one felony arrest and seven misdemeanor arrests. His aggressiveness assisted in the apprehension of six adult suspects and one minor involved in fight in a housing community. That arrest helped restore peace in the community and halted possible retaliations, according to police.
Before joining the Ancilmo Marshall Command, this nine-year veteran was a member of the Christiansted Burglary Team. The skills and training he developed as a part of that team aided him in resolving domestic violence and assault cases, which may have otherwise been fatal. In one case he responded to a victim who was assaulted with a baseball bat and gathered necessary information at the scene, which led to the suspect's arrest.
The Hotel Association regularly joins the police department to honor outstanding officers as an expression of gratitude for their exemplary service and to build ties between the business community, the police department and the community at large.
To select the officer of the month, commanders submit names of officers under their command and, based on their performance during the month, all the commanders vote. One officer from each island whose performance and accomplishments exemplify professionalism and dedication above and beyond the call of duty is selected each month.