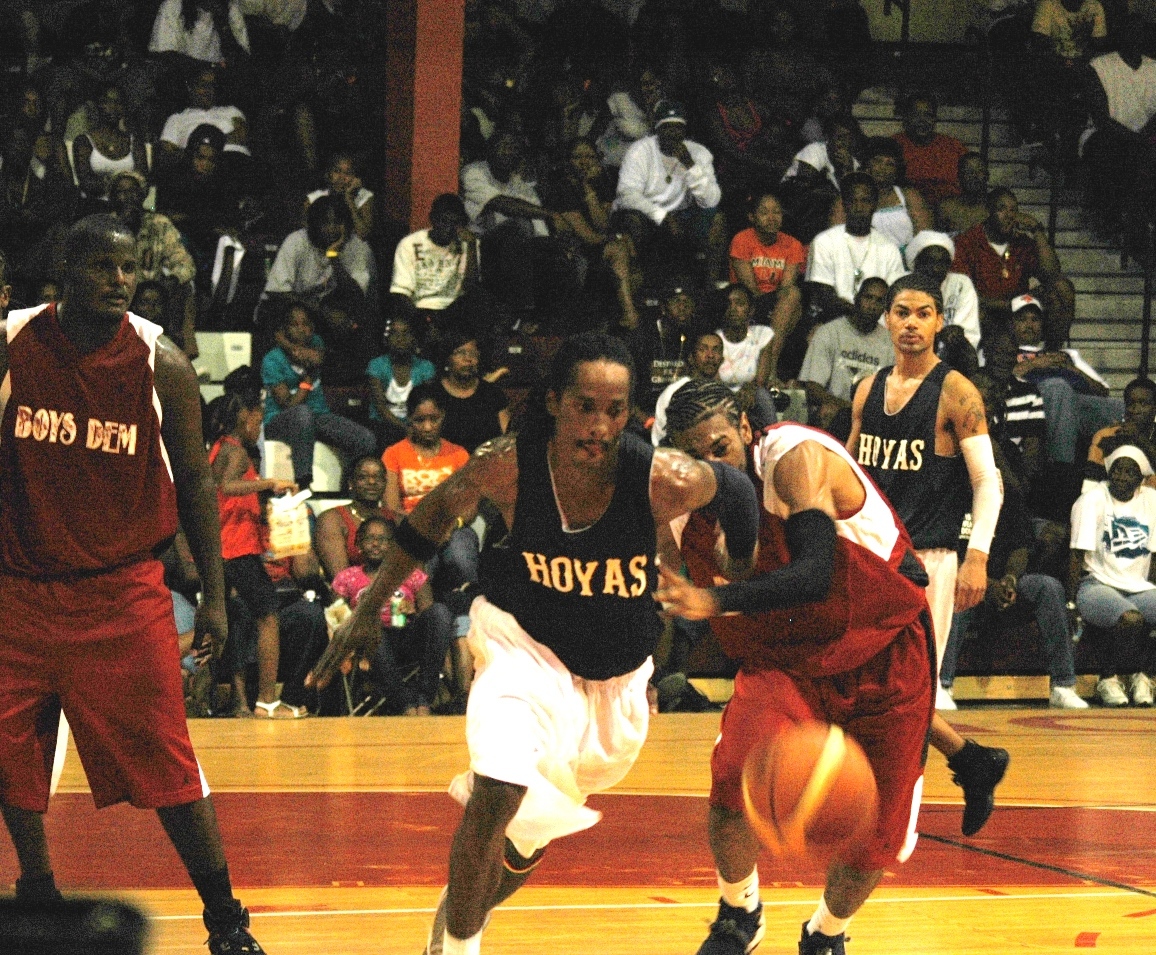 Boys Dem took the first step in hopefully getting by their nemesis, the four-time defending champions Hoyas, by taking game one of their New Breed Basketball Association best-of-three semifinal series, 75-68, in front of a packed house at Central High's Ronald Charles gymnasium on Wednesday.
Over the past few years Boys Dem had been eliminated by the Hoyas in the playoffs or finals, but this year with a revamped team, filled with some of St. Croix's top young talents, Boys Dem is brimming with confidence.
As expected, this contest was filled with excitement from the opening whistle; and after one half of play they were dead even at 36 all.
Boys Dem showcased a more balanced attack, while Roman Castillo did most of the damage for the Hoyas with 13 first-half points. Hoyas sharpshooter, Darnell Hendrickson was well defended and held to a paltry seven points in the opening half.
Boys Dem would outscore the Hoyas 15-13 in the third quarter to lead by two at 51-49 heading to the final period.
In the fourth, the youngsters exploded out of the gates with a 17-2 run to open a 17-point cushion at 68-51, prompting Boys Dem Coach Zorro Swanston to empty his bench with 2:30 left in the game.
Boys Dem's fourth-quarter defense, especially in the early stages, was exceptional, and the Hoyas could not do much against it.
In fact most of the Hoyas' fourth-quarter points came in garbage time late in the contest.
For Swanston it was a sweet victory and a good example of what his team can accomplish when they execute the game plan. "We played good defense tonight, and we also rebounded the ball much better" said Swanston. "Also Zomari (Swanston) was able to take advantage of his size by taking the ball inside instead of shooting those long wild things he likes to shoot," he concluded.
For Hoyas coach Sammy Lee it was a tough loss, but he remained confident that his team will rebound in the next game. "We are in a 1-0 hole right now, but we know how to come back, and we will be back on Friday," stated Lee.
In an earlier game, Guidance also took a 1-0 series lead in their matchup with the Lakers with an 81-73 victory.