Tropical Depression 4 is expected to be Tropical Storm Colin when it passes some 200 miles or more northeast of St. Thomas and St. John Thursday, meteorologist Brian Seeley at the National Weather Service in San Juan said Monday.
"That's assuming this track continues at its current north-northwest motion for a couple of days before it turns to the northwest," Seeley said.
The exact track is usually a bit uncertain when it comes to tropical systems, but Seeley said the computer models kept it northeast for several days so he's pretty confident the track will remain steady. He said that the intensity and timing — between 8 a.m. and 2 p.m. Thursday — are a bit more uncertain.
However, Seeley urged residents to keep their eye on the weather because the storm still has a couple of days to go until it reaches the area.
"There's still the potential for active weather on Thursday," he said.
Whether the territory will get any rain out of the storm remains to be seen, Seeley said.
The depression, which was brewing far out in the Atlantic for several days, got its number at the 11 a.m. update Monday. Forecasters expect it to shortly become Tropical Storm Colin.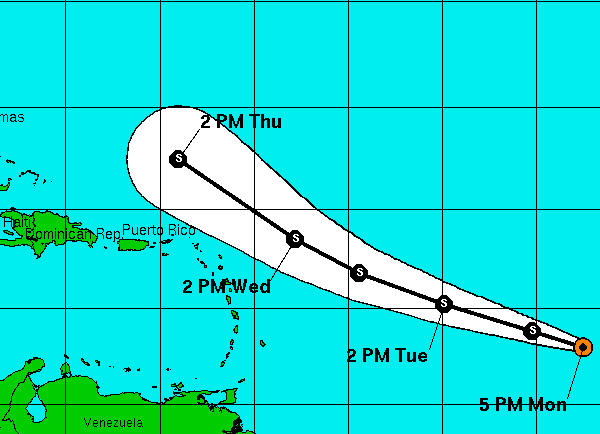 As of 5 p.m., Tropical Depression 4 is centered at 13 degrees north latitude and 42.5 degrees west longitude. This puts it about 1,270 miles east of the Leeward Islands.
The wind speed stands at 35 mph, with gusts to 45. It is moving west northwest at 16 mph. The barometric pressure stands at 1006 millibars or 29.7 inches.
With hurricane season still a long way to go until it officially ends Nov. 30, Seeley noted that there are two more tropical systems behind Tropical Depression 4 that bear watching.
"They look interesting," he said.
While the territory was deluged with rain on July 20 and saw even more rain during the days that followed, that system didn't become a tropical depression until it was passed the area. However, it was a wake up call that hurricane season is indeed here.
Mark Walters, who heads the V.I. Territorial Emergency Management Agency, wants residents to always be prepared for any disaster that could occur.
"Being prepared is not just for a specific event," he said.
That said, if residents haven't gotten ready for hurricane season, now is the time to do so. That means getting enough food and water on hand to last at least a week.
"Check the fuel in your vehicles," he said.
Secure your documents and get your personal kits together in case you have to evacuate, he said.
He also urged residents to sign up for VITEMA's V.I. Alert program so they'll be notified if a disaster is in the offing. Visit www.vialert.gov.