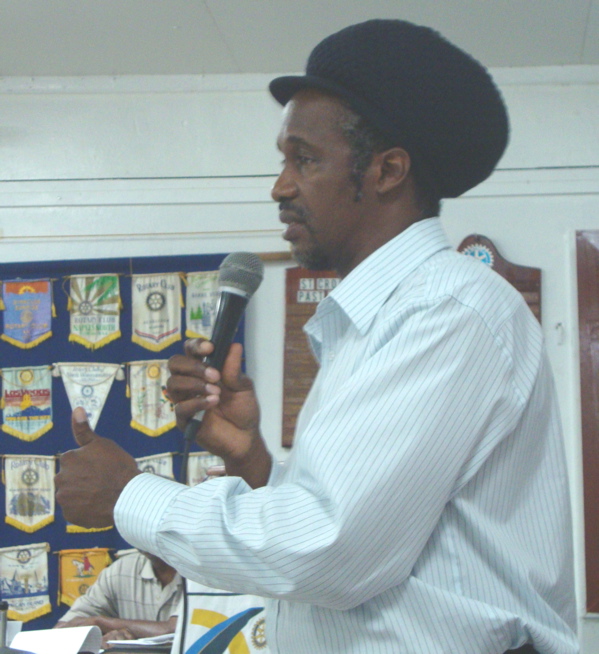 As the song says, it's "inch by inch and row by row" to make a garden grow. And likewise it takes many incremental steps to build a whole farming industry.
Speaking Tuesday at Rotary West in Frederiksted, Agriculture Commissioner Louis Petersen described the steps the department is taking towards that goal.
"You want to see the agriculture industry blossom overnight," he told Rotarians, "but this is an industry you have to grow."
Since being named commissioner in 2007 Petersen and his staff have developed a plan to grow the industry in conjunction with V.I. farmers. Resources have been limited, he said, so the department has concentrated on creating partnerships, finding outside sources of funding, and teaching farmers how to help themselves.
Those steps are bearing fruit, he added.
One of the department's first training initiatives was the Virgin Fresh Beekeepers Project to teach beekeeping to anyone interested. They had hoped to double the number of apiarists in the territory. Instead, they've increased that number almost 700 percent, from 12 to 103.
Beekeeping is a natural industry for the territory, he said. The bees can produce year-round, and there is little required in terms of start-up capital or land.
Those beekeepers are producing a lot of honey – well, their bees are, anyway, and the apiarists are collecting it. In the next step, the department is helping them form cooperatives to market their product. Coops also give them buying and lobbying power, he added.
The Department of Tourism is promoting their product at all its stateside offices and events.
Besides the product itself, bees are a necessary ingredient in other farming pursuits. You can't have an orchard without bees flitting from plant to plant pollinating them. So the beekeeping program provides a base for other agriculture pursuits, Petersen said.
It's also created a side industry. Typically beekeepers have had to purchase supplies and equipments from distributors on the mainland, but now there are people in the territory building hives, boxes and other supplies for the local industry. Some are even beginning to sell them off-island.
The department worked to get the territory included in a Specialty Crops Block Grant program that, when first initiated in 2004, only included only the 50 states and Puerto Rico. Since 2008 Virgin Islanders have been able to participate as well, and by the time the program ends in 2012 the territory will have received about $900,000.
Petersen described many water projects that have been built in cooperation with area farmers, including a water standpipe in the Bordeaux farming community that takes advantage of a naturally occurring spring. The department also has made arrangements with the Department of Housing to utilize the unused cisterns from public buildings. There's about 12 million gallons in unused public cisterns on St. Thomas and 38 million gallons on St. Croix, he said.
Other programs Petersen touted include participation in the U.S. Department of Agriculture's Organic Certification Cost-Sharing Assistance Program, the Young Farmers' Training Program, and a $600,000 loan to the V.I. Farmers' Cooperative which is already harvesting produce from its Beeston Hill site.
Tight budgets mean that the department will have to continue doing more with less, Petersen said, and every resident of the territory has a role to play. If they're not out in the fields growing food, they can at least buy locally grown produce and encourage the territory's farmers to take part in the programs.
The Rotary West audience listened appreciatively, often times calling out approval and support during the presentation. Afterwards they noted they have a strict rule that the speaker be finished by 8 p.m., but in this case they let him run long and kept him at the front of the room until 8:20 answering questions.