St. Croix playwright Imelda "Sandra" Edwards saw more to government work than work — she saw humor and she saw a play.
With 16 years of government experience behind her, she wa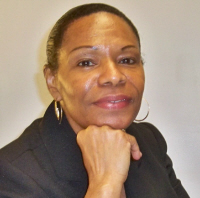 s inspired to pen the play "8 to 5 – Government Style," and the Caribbean Community Theater produced the one-act play at Island Center Sydney Lee Theater in 2000. With ten more years experience as a local government employee, she decided to rewrite the original play, adding current material and jokes.
CCT is now closing out its season with the latest two-act version, "8 to 5 – Government Style II."
The occasional real-life tension between members of the public and government workers was nowhere in evidence at the Friday night opening, whose audience comprised both. Everyone was laughing a lot during the two-hour performance.
Raymond Williams, chief of staff for Lt. Gov. Gregory Francis, was one of those laughing. "I have lived this for 20 years," Williams said. "This is so theatrical, and it is so true."
Edwards, who had not attended any dress rehearsals, was also at opening night enjoying the production and she took a curtain call at the end.
She said in an earlier interview that as a young girl she had her eye on the silver screen and dreamed of becoming a movie star. She didn't have the opportunity to pursue acting, but she immersed herself in writing songs, poetry, plays and books.
"I get a natural high from writing," Edwards said. "I just love the written word and I had it in me to write." She added she would love to be able to write 24/7.
Edwards, originally from Antigua, won a poetry contest at age 16 and had her poem "My Mother's Warning" made into a song and record that she said got air time on the local radio station. She did end up on stage performing Calypsonian music in competition locally as "Lady Brain." She had a local hit song about two women who dated married men because of the lack of available single men entitled "Susan & Martha."
Her writing did not stop there as she is also the author of three self-published novels: "A Caribbean Story of Love, Lust and Lies," "A Caribbean Story of Hurt, Horror and Healing," and "A Caribbean Story of Cruelty, Corruption and Compassion." All the books are available at Treasure Attic book store in Christiansted.
"I have so many ideas, but writing comedy is what I like to write most," Edwards said. She said she is working on another comedy for CCT's next production.
Her humor sometimes takes a ribald turn, and the theater suggests no one under 18 attend the production. But the ribald turns are likely not anything that the average government worker has not heard. Much of the play concerns gossip in the workplace and conjecture about the big shots making the big bucks, but one probably would not be wrong to assume that much of the conversation that passes in government office between the workers is not gossip and conjecture.
Edwards has written screenplays as well, and says she would like to write a soap opera about St. Croix.
"I am a starving artist right now, but one day I hope to make it big and retire from government service," Edwards said.
"8 to 5 – Government Style II" is directed by Eileen Bishop Des Jardins. The Crucian comedy features some very strong performances from Irene Cuffy, Xauskya Emmanuel, Carol Frank, Beverly Antoine-Frederick, Carmen Simmonds, Khnuma Simmonds, Xaulanda Simmonds-Emmanuel, Jose Maldonado and Sharon Powell.
The theater is at 18 Estate Orange Grove where tickets are sold at the box office prior to each performance: $15 for adults; $8 for students. The box office and bar open at 7:15 p.m. on show nights, and at 3:15 p.m. for the Sunday matinée.
The performances are July10, 16, 17, 23, and 24 at 8 p.m., and one Sunday matinée on July 18 at 4 p.m.