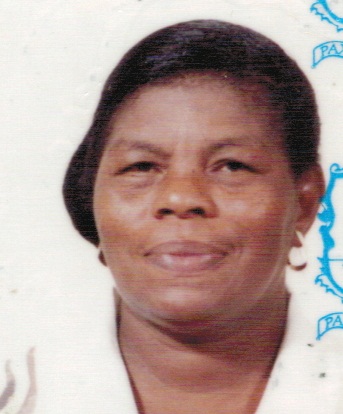 Vette Parson, also known as "Elmie Stoddard," of Barren Spot died on June 19. She was 64 years old.
She is survived by her sons: Lennox and Gerrie Parson; daughter, Sheron Tyler; grandchildren: Chadley Husband, Makela Tyler, Nishanna Parson, Nekeisha Parson, Rhea Daniel, Shakeem Clarke, Shantel Cain and Amori Ogarro; daughter-in-law, Anne Parson; son-in-law, Carry Tyler; sisters: Sylvina DeSouza, Monica Samuel, Paulina Ballah, Elvira Daniel and Gladys Nilds; and brothers: Winston Henry, Glenroy, Grantly and Everette Young, and Hamilton Stoddard.
She is also survived by sisters-in-law: Valerie, Sarophina and Rosaria Young; brothers-in-law: Nicholas DeSouza and Granville Ballah; nieces: Jana James, Antoinette, Romancia, Shericka and Kahalia Young, Donna Glasgow, Debbie Martin, Debbie Shallow, Monique Martin, Josette and Sherene Young, Camelia Douglas, Aleeka, Shanie, Marie and Keira Stoddard, and Allyssa Johnson; nephews: Reynold, David, Cuthbirth and Liston DeSouza, Trevor Saldana, Wayne Martin, Winston Henry Jr., Quincy Young, Everette Zorilla, Gary, Sadique, Steven and Glenny Young, Gregg and Jeffrey Ballah, Jeff Daniel, Allan Nides, Glenroy Nilds, Alli James and Nolly Buddy James; special great niece and nephew: Trevor and Sherice Saldana; 24 great nieces; and 22 great nephews. Other survivors include aunts: Ermina Parson, Joyce Stoddard, Jermine Parson, Veroncia Moore and Cynthia Parson; uncle, Lloyd Parson; special friends: Charles Benjamin, Maxine Yarwood and Windie Paul-Richardson; cousin, Pamela Brewster; as well as other relatives and friends too numerous to mention.
A viewing will be held at 9 a.m. and a funeral service at 10 a.m. on Friday, July 2, at St. Peter's Epsicopal Church. Interment will follow at Kingshill Cemetery.