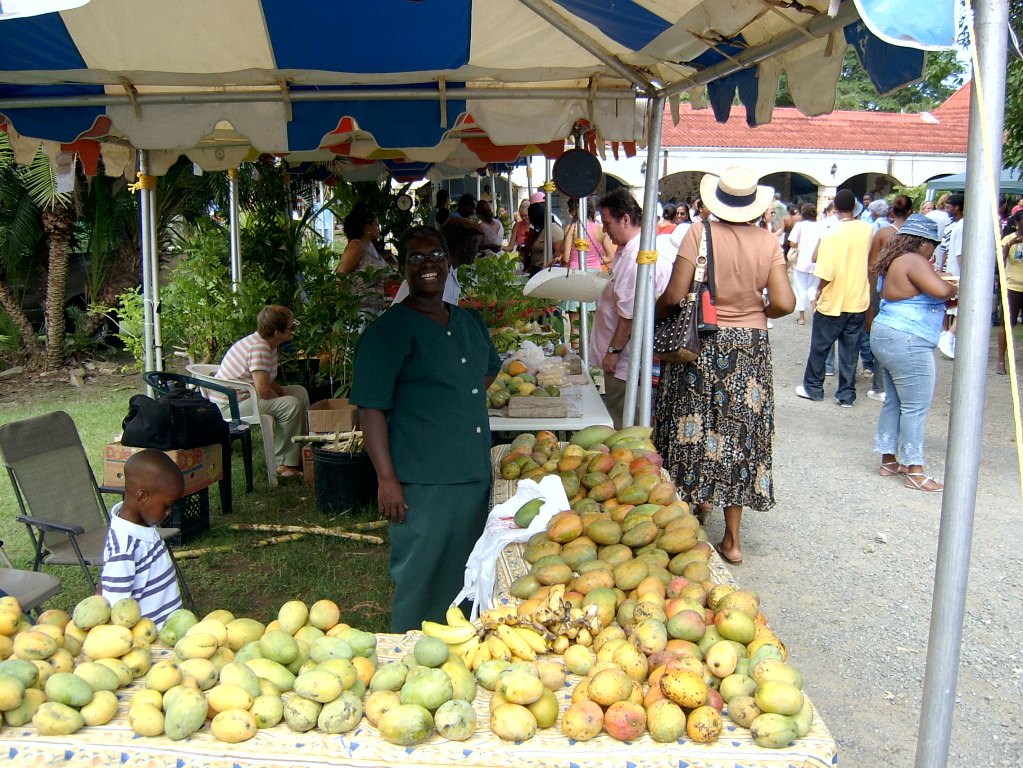 Masses of fat green and blush-ripe mangoes weigh down trees all over the island, falling with random thumps, leaving a sweet smell and autumnal orange blotches on forested roads. The summer bounty of mangoes will be put to good use this Sunday when Mango Melee comes again to St. George Village Botanical Garden on St. Croix.
The festival, in its 14th year now, celebrates not just the island's huge summer mango bounty but the many other distinctive and unusual fruits of St. Croix, the wider Caribbean and tropical climes in Asia and Africa.
As always, there will be the Mango Dis, Mango Dat mango-cooking competition. If you cook for fun for friends and family, you would enter the Mango Maestro division. If you receive any income from your cooking, that puts you into the Mango Maestro Pro division. Each division again has four categories: Sips (drinks), Salsas (salsas and sauces), Sweets, and Stuff (main dishes, and anything that doesn't fit into one of the other categories). Need it be said, everything must feature mangos?
The mango-eating contest is a perennial favorite, too, with adults, then kids, stuffing themselves with a horrifying amount of mangoes in a frenzy of sticky orange excess. And on a more staid level, there will be a tropical flower identification contest this year.
In the Great Hall, exotic fruits from akee to wax jambu will be laid out on display all day, later to be auctioned off in mounds of random fruit.
All this week, the Southern Association of State Directors of Agriculture is meeting on St. Croix, and many of the directors will extend their stay to attend Mango Melee. They will participate as judges and hopefully enter the mango-eating contest, said Holly Herold, the garden's executive administrator.
The Melee has grown steadily over the years to become St. Croix's most popular summer festival.
"Last year we had over 4,000, and we're hoping to break that record this weekend," Herold said. "This year, V.I. Sea Trans will be making a special trip from St. Thomas, so that's a big plus."
The ferry will leave St. Thomas this Sunday at 8:30 a.m. arriving in Frederiksted at 10 a.m. It returns to St. Thomas at 5:30 p.m. from Frederiksted, according to Herold. Call 776-5494 for special Mango Melee rates.
Nearly a hundred farmers, local businesses, craftsmen and purveyors of local drinks and cuisine will be on hand, said Herold.
"You can get a foot massage and then buy a toe ring," she said.
You can also learn a lot. Dr. Richard Campbell, senior curator of tropical fruits from Fairchild Garden in Miami, will conduct a workshop about mangoes of Florida and the Caribbean; while Joanne White will talk about the nutritional benefits of mangoes and tropical fruits. And someone from the U.S. Customs and Border Control will give an update on regulations for importing and exporting tropical fruit.
Mango Melee is the brainchild of staff from the St. George Village Botanical Garden, the V.I. Department of Agriculture, and UVI's Cooperative Extension Service and Agricultural Experiment Station. Fourteen years ago, the three entities came together to find ways to promote the use of the mangoes that saturate the islands yearly.
The 16.5-acre garden is planted among the restored buildings and ruins of an 18th- and 19th-century sugar cane plantation.
Money raised at the gate and from the contests help keep the botanical garden open 364 days a year, and maintain a botanical library and herbarium, which all support its mission of the conservation, preservation, and education of the ethno-botanical heritage of the U.S. Virgin Islands.
Gates open at noon on Sunday and the festival formally ends at 6:30 p.m.