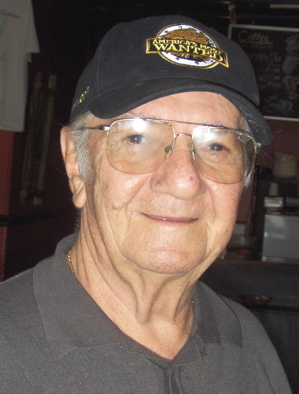 Veteran WSTA radio personality Lee Carle recalls vivid memories of Hurricane Hugo. Twenty years after the vicious storm, his recollections have almost the same immediacy as they did at the time.
Anyone who lived through Hugo knew Carle's voice – along with those of Addie Ottley, Jean Greaux, Irvin "Brownie" Brown and Anita Davis – as the only link we had with each other and the outside world on what has been called by chronicler Karl Callwood, "A Voice in the Dark," the territory's longest night.
WSTA was the voice of the territory for four days
When a local AirThere Helicopter pilot came to WSTA and offered to fly to St. Croix the day after Hurricane Hugo, Carle jumped at the chance.
"An Australian pilot, can't remember his name," Carle says. "He asked me who would give him permission. I told him "I give you permission.'"
And like that Carle was off.
"There was no communication with St. Croix," Carle says, "or anyone else. We plugged in the radio to the AirThere company frequency, and I told Addie I'd be live on the air. When we got to St. Croix, we landed on the spit at Fort Christiansvern in Christiansted. The minute we landed, we were surrounded by tourists, asking for help. One honeymoon couple was crying, and telling us the prisoners were out of jail."
About 200 prisoners had escaped from the Golden Grove Correctional Facility, and were wandering loose on the island.
Carle instructed the pilot to stand by and walked down Company Street in the heart of town.
"I couldn't believe what I saw. Transformers and wires were on the ground, and the Coast Guard was trying to pick them up, while a bunch of guys yelled at them: 'You guys get out of here and leave us alone,' while servicemen continued their work."
Meantime, Carle said, "People with bags and bags of loot were coming out of shops, just running everywhere. I ran into Bill Harvey, who was Civil Defense chief, and I asked him what was going on. He said he didn't know, no one had contacted him, he had no communication with anyone."
Carle said, "At that point, I decided to see what was going on at the airport. All this while, I was live with Addie on the radio, reporting everything blow by blow. When we landed at the St. Croix airport, we were surrounded again, this time by network television reporters from NBC, CBS, ABC.
"They offered the pilot $1,000 to take them over the island, $1,000. I told him to go ahead and make some money while I stayed at the airport. The networks had gotten here from San Juan on a helicopter, they said, but it wasn't there now."
Carle encountered Darryl Lewis, who was with the Department of Property and Procurement and he flew back to St. Thomas.
"We flew over Sunny Isle Shopping Center, and Daryl said, 'Do you see that?' What we saw was a bunch of guys taking couch out of a store, with a National Guard truck backed up to take it. The National Guard denied this report later, but we knew what we saw. The whole island was destroyed. The Hovensa refinery fuel tanks were crushed. It was like a giant had marched through stepping on them. The housing communities mid-island were strewn over the landscape like match sticks."
WSTA was operating in emergency mode, which meant 24-hour coverage, no commercials.
"We immediately dumped all the commercials, contacted all officials when phone lines were available. We used our fax line to get feed from BBC, NBC and the other networks."
Carle had Federal Emergency Management Agency (FEMA) training under his belt, plus his technical abilities as chief engineer, and familiarity with the territory. One thing he hadn't prepared for, however, was being lowered out of the window to retrieve a satellite dish.
"A window had blown in and the air pressure and water level were so severe, we had to open a door," Carle says. "Then we discovered looking outside that the small UPI satellite dish had broken loose from its mounts. If we were to provide national information, we had to have it,
So, Jean Greaux, Ludrick and Terrance Thomas formed a human chain and lowered me to the dish."
Carle wipes his brow today, recalling the dramatic moment, fanning himself with his ubiquitous hat.
"Someone said once you can't see the wind. Well, I saw wind; I saw it horizontally; I saw it vertically, I saw it spinning in circles; I saw it in every shape. Yes, you can see wind."
Carle has no idea how many calls the station took over the night of the storm and the following days.
"I remember the next morning a woman called to report screaming from a neighbor's building. What had happened was the family had gone to the basement, but it had been flooded with propane from a broken tank. Someone lighted a match, and it exploded.
"A nurse called in immediately and said to tell someone to find a clean sheet, to put water on it and tell the victims to hold it against their burns until help could arrive," Carle says. "And, somehow, help did arrive for them."
He says, "Someone called and said a supply plane was trying to land, but can't because of people on the runway. In a couple minutes, John Harding, VIPA director, came marching into the station, his boots covered with mud. 'You tell everyone it's OK to land. Those are workers clearing the mud off the runway.'
After about four days without commercials, Carle says, "Our sales manager, Rudy Kelsick, came to me, about what to do." Station owner Len Stein was stuck in Puerto Rico. "I didn't want to be crass, running commercials in the midst of all the suffering.
"Frank McLaughlin called in about that time. He told me he had lost his home and his real estate office on Blackbeard's Hill. He wanted to put an announcement on that he would be operating from another office. I told him, we weren't doing commercials – it would be a public service. .
"So, I said on the air," Carle continues, "'he'll kill me for telling you, but Frank insisted on buying the time anyway."
Carle says that was all that was needed.
"The floodgates opened," Carle says. "People called in with chain saw services to cut tree trunks, ice companies, and people just sent checks to keep us going. Leroy Gottlieb offered a couple gallons of gas. Bill Collins of Texas Pit BBQ brought us food, people came up with sandwiches, everything, I think we had about $1,500 when Len got back from Puerto Rico, and he distributed it to the staff."
The station's public service was recognized by the community in a WSTA Appreciation Day December 3, 1989, sponsored by 15 community organizations, complete with a parade, and then Delegate to Congress Ron deLugo as master of ceremonies.
Mel Plaskett, then St. Thomas-St. John Chamber of Commerce president and organization chairman, expressed the community feeling.
"For one long night, we all had nothing to fall back on except the grace of God," he said in an introduction. "And God came through for us. On a hillside in the Sub Base, He gave a team of skilled, dedicated people the strength to lead us during out darkest hour. These people have earned our long-lasting and undying gratitude."
Everyone expressed gratitude, from then president George H. W. Bush, in writing, to an anonymous radio caller who had told Carle: "I'm sitting in my bathtub on a mattress, with my two dogs, a phone and a radio. You are all I have. This is how I will survive."
Callwood, in a written account of the station's role in the storm, said, "The station did sustain storm damage It was Lee Carle who doubles as chief engineer who coaxed the overworked machinery into just a little more life.
"The morning after the storm, WSTA emerged with a damaged generator and tower, a ruined satellite downlink receiving system and computer array, as well as its uninterrupted power supply system and electrical weather head, Despite all this, the machinery was dragged kicking and screaming into service with only an hour and a half down time during the storm."
Callwood quotes WSTA president and Morning Show host Addie Ottley who has said every day since the storm: "Today will be just a little better than yesterday."
And he means it, Callwood says.