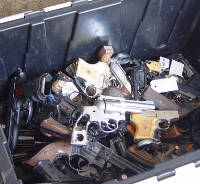 More than 300 dismantled guns went into the crusher Friday in Bovoni after being taken apart at the Alexander A. Farrelly Justice Complex in Charlotte Amalie.
The weapons were registered guns collected from owners and families of gun owners on St. Thomas and St. John who did not want the weapons or the risks and responsibility of keeping them secure anymore, according to Virgin Islands Police spokeswoman Melody Rames.
After the handguns, rifles, shotguns and automatic weapons were dismantled at the Farrelly Center garage, using a chop saw and other tools, officers hauled them to the dump at Bovoni for destruction and off-island disposal
Overseeing the weapons destruction were Officer Elfreda Robinson, and Forensic Officer Cornel Esprit.
Robinson said that disposal of the weapons had proved difficult in the past. The police department used to destroy the guns and then dump them into the sea.
"The EPA (Environmental Protection Agency) wouldn't let us do that anymore," Robinson said.
The VIPD found a way to dispose of the weapons by putting them in cars that were about to be crushed in the baler at the landfill at Bovoni.
Friday afternoon, Robinson and Esprit dumped the dismantled gun parts into two wrecks, and then watched as the wrecks were smashed and picked up by a crane and then put into a crusher, coming out a metal cube about two by two by six feet. The crane then lifted the cube out of the crusher and loaded it onto a flatbed for transport to Florida.
The cars and guns will be smelted down in Florida and recycled, according to Lester Ashby of A-9, which manages the dump and the machinery that crushed the weapons.
A-9 volunteered the crushing service to the VIPD, Rames said.