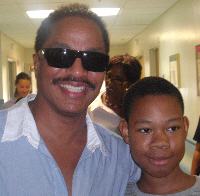 Two of the late Michael Jackson's brothers are on St. Thomas for a tribute concert at 8 p.m. Saturday at the University of the Virgin Islands Sports and Fitness Center.
The concert featuring Tito Jackson, "MJ51 – A Tribute to Michael Jackson," will be held on what would have been Michael Jackson's 51st birthday and will celebrate Jackson's life and music. Proceeds will benefit the Reichhold Center for the Arts.
On Friday, Marlon Jackson toured the Schneider Regional Medical Center with Sen. Shawn-Michael Malone where he met staff and patients. Numerous condolences on the June death of his brother from staff and patients greeted Jackson. Jackson came to tour the pediatric ward, but was happily surprised to find the ward empty. Instead, Jackson toured the Labor and Delivery Ward, visiting with staff, new mothers and some of the territory's newest arrivals, including one two-day old baby.
Many of the people who met Marlon Jackson had grown up listening, singing and dancing to the Jackson Five's music and several could sing their favorites. Malone sang excerpts from "I Want You Back" and hospital administrator Elizabeth Harris said her favorite was "I'll Be There."
At a press conference later on Friday, Marlon and Tito were asked about their family's tradition of visiting hospitals, Ronald McDonald Houses and other organizations in conjunction with performances.
"To me it is not important that people know [about the visits]," Marlon Jackson said. "The Lord knows exactly what is taking place."
Marlon Jackson recalled one poignant visit not related to a performance which his family made to Ethiopia to bring food and medication to people in need there.
This is a first visit to St. Thomas for Marlon Jackson, and a nearly first visit for Tito, who performed on a cruise ship that called here a few years ago.
The benefit will give 100 percent of net proceeds to the Reichhold for artistic programming, according to Pamela Toussaint, the Reichhold's co-director. Saturday's concert is being staged at UVI's gym to offer greater capacity than the Reichhold Center itself. The gym can hold up to 3,500.
Local entertainers Louis Taylor, Osa McCleverty, Linette Baa, Janette Brin, April Jackson and members of the Charlotte Amalie High School Jazz Band will also be rounding out the performance.
"It really came down to spacing," Toussaint said. "Sports and Fitness holds almost three times the number that Reichhold does."
Tickets are $45 in advance and $50 at the door. VIP tickets are available for $50 in advance and $55 at the door.
The Reichhold Center itself will be the venue for the after-party hosted by Caribbean Posh Magazine. The party is open to the public with tickets priced at $15.
Tickets available at a number of locations including the Reichhold Center Box Office, KC Movies in Nisky Center, Essentric Shoe Boutique, Home Again and Get Licked in Red Hook, VI Bridal and Tuxedo, Urban Threads, Fat Turtle and Smith's Ferry. For more information contact the Box Office at 340-693-1559. For further information about "MJ51 – A Musical Tribute to Michael Jackson" please contact Marjorie Smith at 690-0035.