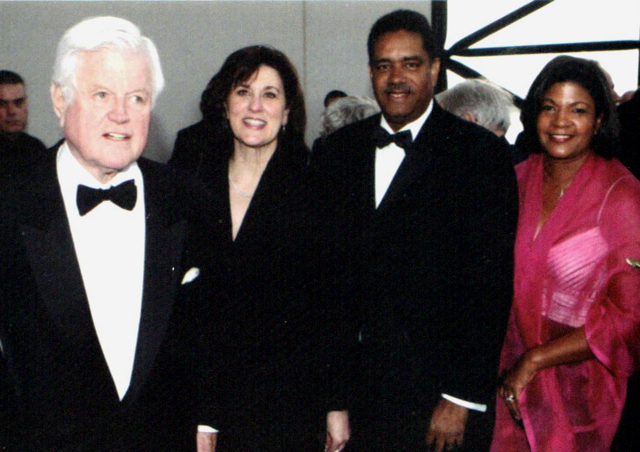 Sen. Ted Kennedy of Massachusetts, the "Lion of the Senate," occasional presidential candidate and brother to President John F. Kennedy, passed away Tuesday night, prompting some in the Virgin Islands to reflect upon his long connections to St. Croix.
Gov. John deJongh Jr. described Kennedy as a "tireless leader in the U.S. Senate who for the past five decades led a relentless effort to advance civil rights, health care reform and increased economic opportunity and social justice for all American people."
The governor recalled having a conversation with Kennedy in 2008 in Boston, during which Kennedy spent most of the time telling him and Cecile about his affinity for the islands, his favorite spots and of sailing to Buck Island.
"Senator Kennedy went so far as to draw a map of St. Croix on the back of the speech he was to deliver that evening while he pointed out all the places he remembered," deJongh recalled. "It was very clear that he had great fondness for the beauty of the Virgin Islands."
Offering her condolences, Delegate Donna Christensen said the Kennedy family spent many Christmas holidays on St. Croix and was often seen shopping for groceries at Pueblo, spending time at Harbormaster on the Cay or dining at local restaurants.
Reflecting on Kennedy's long prominence in the Senate, Christensen recalled him calling her out of a Congressional Black Caucus annual meeting to ask for CBC support of Medicare reform and Medicare Part D.
"It was a better bill than what we had and I told him the CBC and I would support it as long as the territories got equal treatment," Christensen said. "I have no doubt that it is because of him that we have equitable treatment today in health care reform and the Senate HELP Committee's bill."
Sen. Shaun-Michael Malone remembered seeing Kennedy one year ago at the Democratic National Convention in Denver, where, Malone said, Kennedy was promoting the passing of the torch to a new generation of leaders and championing the passage of health care reform to extend benefits to forty seven million uninsured Americans which he described as his "life's work."
"In his passing, disadvantaged people across the nation have lost a great champion, for Kennedy is considered the greatest United States Senator of the 20th Century and a fraction of this 21st Century," Malone said. "His death represents the end of an era that began when he was elected in 1962 to the Senate seat vacated when his brother John F. Kennedy was elected the 35th President of the United States. His legacy as the sponsor of over 300 bills and many landmark pieces of legislation ranks him among the great United States Senators in America's history."
Malone recounted some of Kennedy's accomplishments, saying he was responsible for most of the significant social legislation passed in the areas of civil and voting rights, education and immigration, health care for children, labor relations and minimum wage increases, the American Disabilities Act, Medicare and Medicaid, rights and privileges for senior citizens, children, the poor, the elderly and people with special needs.
"He did not just vote for the bills, he drafted them and forged the compromises to make them gain bipartisan support," Malone said.
Sen. Patrick Simeon Sprauve weighed in on the passing of this icon.
" Senator Kennedy and his siblings—notably, John F. Kennedy, Robert Kennedy, and Eunice Kennedy-Shriver, have been an integral part of American history for decades and thus will never be forgotten," Sprauve said. "I truly respected him as a leader."
Kennedy passed away after a yearlong battle with cancer. He was 77.