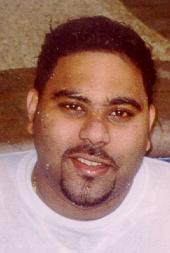 Denesh S. Subnaik of Constitution Hill died on Aug. 9. He was 28 years old.
He is survived by his mother, Sandra Subnaik; sister, Nirmala Subnaik; grandparents: Daniel Sookram and Molly Sookram; aunts: Lornie, Linda, Marsha, Rose, Sylvie, Chandra, Shanti, Pinky, Girlzin , Carmen, Radha, Merle, Tanty and Celia; and uncles: Vicko, Dianan, Rohan, Roy, Lallo, Vernon and Boyie. He is also survived by cousins and other relatives: Derrick, Celine, Selesha, Shelly, Darren, Roben, Nadia, Shantel, Tori, Devon, Dana, Griselle and Ken-Lee; special friends: Harry, Mike, Shammie, Jene, Rommel, Reena, D Singh, Kris, Jonas and Julien; as well as other relatives and friends too numerous to mention.
Professional services are entrusted to James Memorial Funeral Home Inc.