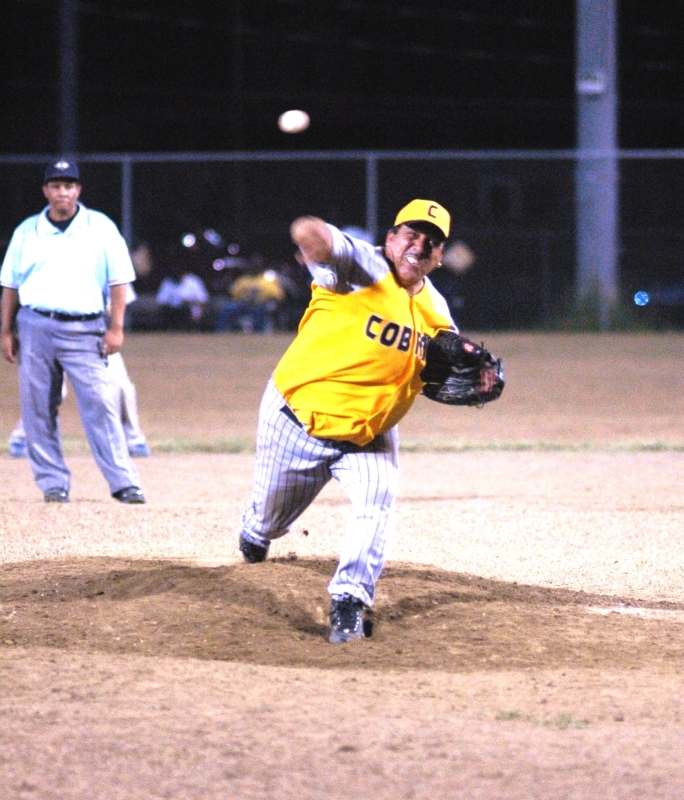 His stomach would not allow his uniform top to stay in his pants and he looked nothing like a big-game pitcher, but that is what Jose "Cheo" Guerra turned out to be for the Cobras on Saturday as he pitched a 14-5 complete-game victory in the finals of the Raphael Jackson Double A Baseball League at the D.C. Canegata Ballpark.
The victory meant that the Cobras — who were trailing two games to none in the best-three-of-five series — lived to fight another day and kept their slim championship hopes alive.
Batting first, the Cobras drew first blood by plating an unearned run to take the early lead. The Yankees came up empty in the bottom of the inning.
After the Cobras failed to score in the top of the second, the Yankees tied the game at one in the bottom of the inning on an RBI single by Dwayne Harvey.
The Cobras retook the lead at 2-1 in the top of the third on Justino Navarro's sacrifice fly. The Yankees failed to score in their half of the inning.
After a scoreless fourth, the Cobras took the lead for good at 5-1 in the top of the fifth, plating three runs on a two-run single by Carmelo Torres and a sac fly by Navarro. The Yankees answered with a two-run shot by Mackeel Rogers to cut the lead to two at 5-3 after five completed innings.
The Cobras then blew the game wide open in the top of the sixth inning, erupting for five runs on two-run singles by Enrique Soto and Angel Torres and an unearned run to extend their lead to seven at 10-3.
The score would stay that way until the Yankees add a run in the bottom of the eighth on an RBI single by Omari Eastman to now trail 10-4.
The Cobras ended all hopes of a Yankee comeback by plating four runs in the top of the ninth for an insurmountable 14-4 lead. Rogers hit his second home run of the game in the bottom of the inning for the Yankees for a final score of 14-5.
Guerra, in pitching the complete-game victory, got a standing ovation from the Cobras fans, and he left the field to cheers of "Cheo, Cheo, Cheo."
Malcolm McGregor got the loss for the Yankees. Top batters for the Cobras were Angel Torres, 5 for 6 with three RBIs; Soto, 2 for 3 with two RBIs; and Dario Linares, 3 for 4. For the Yankees, Rodgers went 2 for 4 with two home runs and three RBIs and Jose Morales went 2 for 5.