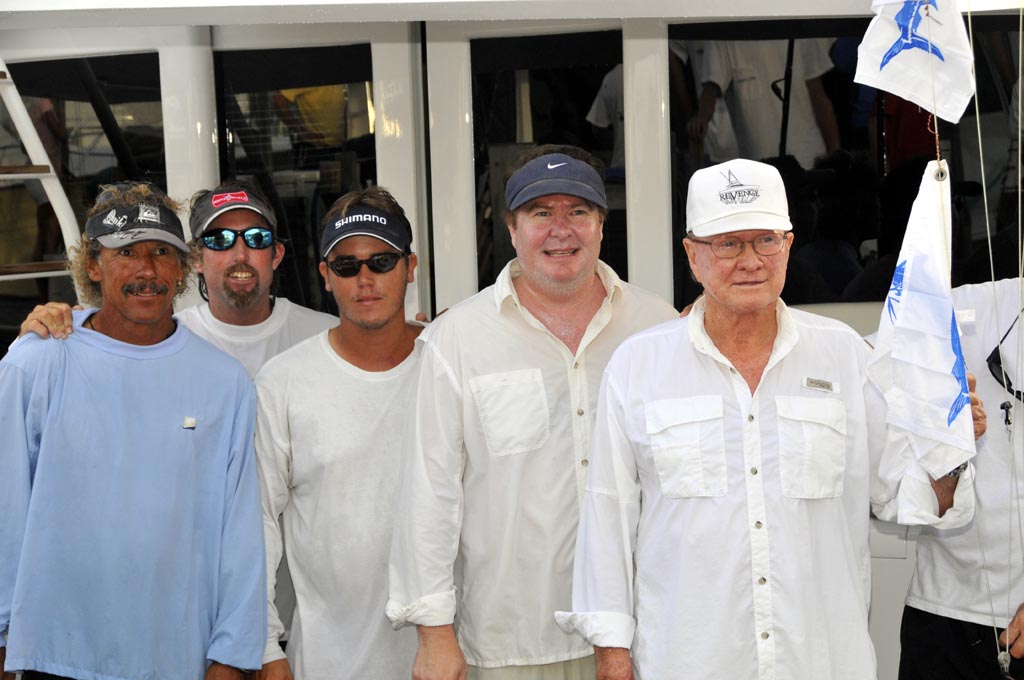 There was only one blue marlin released aboard Sam Jennings 58' Revenge on the fourth and final day of fishing in the 37th annual USVI Open/Atlantic Blue Marlin Tournament (ABMT). Jennings himself caught the fish. But, when the Revenge backed into its slip at American Yacht Harbor, 12 flags flew off the outriggers splendidly displaying the grand total of blue marlin Sam and his son Jonathan, 'Jon', had caught throughout the tournament. This grand tally earned Revenge the Top Boat prize, and Jon's seven blue marlin releases netted him the Top Angler trophy and $10,000 cash – a feat he had also achieved in 1994.
"It's the crew," says Jon Jennings, about the reason for the Revenge's success.
The crew pulled out every blue marlin release flag they had aboard – including the special '1000th' blue marlin flag they flew when they hit this total on Sept. 9, 2008 – and still had to borrow one from the team of Rum Bum in order to display their tournament triumph.
Meanwhile, it was David Browning's 57' Dean Johnson, Mr. B II, that earned second top boat with the release of eight blue marlin.
"We lost two today or it would have been 10," says angler Robbie Browning. "It was a great tournament. We'd heard the blue marlin bite was good here and that's why we came."
No Excuses
, a 48' Viking, with Capt. Tony deMoya at the helm finished third top boat with eight blue marlin releases.
Lisa Kettenacker, aboard J.A.C.S., earned Top Female Angler with three blue marlin releases.
The 34-boat fleet released a total of 159 blue marlin.
Started by Chuck Senf back in 1972 – and nicknamed The Boy Scout Tournament since a portion of the proceeds have always benefited the VI Council of the Boy Scouts of America, one of Senf's favorite charities – the ABMT has evolved into the competitive saltwater sports fishing events in the world. It's one of tournaments making up Bisbee's World Billfish Series and is the last leg of the prestigious Bermuda Triangle Series and Spanish Main Series.
For more information, contact Jimmy Loveland, tournament director, at 1-888-2-FISHVI (1-888-234-7484) or 775-9500; fax: 779-8605; email: loveto@islands.vi; or go to Web site: www.abmt.vi