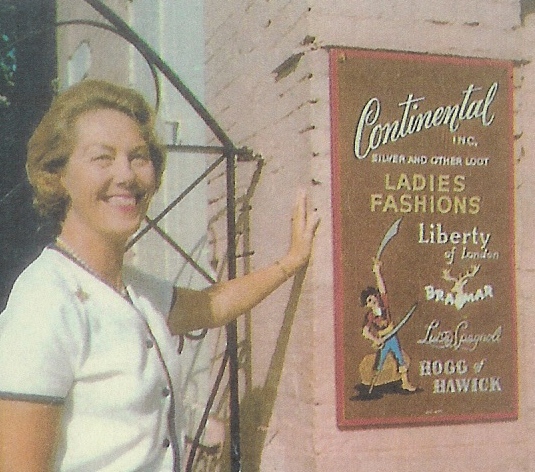 Phyllis B. Fog, a long time resident of St. Thomas, passed away on July 31, after a brief illness. Mrs. Fog was born Phyllis Meta Johansen in Kolding, Denmark, on May 20, 1914. She left Denmark prior to World War II and after stops in Norway, England and the U.S. mainland found her way to St. Thomas in January 1938. Her final leg of the trip to St. Thomas was by cargo boat from Fajardo, Puerto Rico, where she slept on the ship's deck. It was cold as they crossed at night, and she recalled loaning her sweater to another person on the boat. In her words, when she arrived on St. Thomas it was "an unspoiled paradise and everyone knew each other."
Upon arriving on St. Thomas, she worked for the Danish West Indian Company Ltd. from 1938 to 1944 where she managed Caneel Bay Plantation Resort and also worked at Maison Danoise. In the summer of 1939 she went to New York where she purchased all of the furnishings for the original cottages at Caneel Bay. In those days there were very few cars and she often rode horses, mules or donkeys to get around both St. John and St. Thomas. She had a favorite horse named "Don" (a "lovely, white gelding") that was stabled at Caneel Bay and Mr. Powells or Mr. Sewer was always there to assist her.
On St. Thomas, Mrs. Fog recalled that "in those days The M/V Catherine was the only link with the outside world. It sailed for Puerto Rico with mail and passengers at midnight once a week captained by a Norwegian named Holm. There was a tall pole at the far end of Hassel Island and when a ship approached the man in charge would raise a ball or more to show what type of vessel was coming and people in town would know and could take action if needed. There was no public transportation of any kind and with so few cars we walked where we wanted to go. It was practical to know about a ship's approach if one had business on the dock to have time to get there."
A favorite place to go in those days was the Contant Club. Mrs. Fog remembers: "I bought a small car from a cousin of mine in New York and had it sent down, and so was able to explore the island better. It did give me problems on some trips though as it had an unfortunate habit of overheating when it went to steeper areas. Once I got stranded on the Contant Road near the Mill and took the road into an Estate. I could see the stone house there and walked there for help. I met Mr. Molina, who owned it and had built the lovely stone house there, and got assistance. The place became the Contant Club later on and a meeting place for us and our friends every Thursday evening for a long time. There would be some type of grilled meal and seats on the porch and often a lot of singing and music, always a fun and cheerful time."
Mrs. Fog recalled how things changed when the war broke out in September 1939. "It was expected but still a shoc,k when it happened. I remember being in the small house on Government Hills which Eli and I shared, hearing the French population walking through the street singing the "Marseillaise" and knew its significance. It changed everything for everyone. Plans had to be scrapped and new ones thought of as well as all the adjustments to come. A few weeks later the Athenia was sunk north of Scotland by a German u-boat, and even that early we could spot u-boats in the waters around St. Thomas – surfacing on the north side. Two Danish ships were ordered to seek shelter in St. Thomas rather than risk the trip home and were in port here for many months. We got to know the two captains well, very nice men. When they finally got sailing orders the first to leave the harbor was torpedoed close to us and all men lost. The other ship made it back to Denmark. There were survivors from other sinkings rowing into our harbor and many were quartered at Bluebeard's Castle."
In 1944 Mrs. Fog left the West Indian Company and purchased a store from Bebe Monsanto that was called the Little Shop. For a number of years it was located in Berreta Center. Later she and a partner started the Continental Gift Shop located at 48 Ab Norre Gade, and shortly thereafter, Mrs. Fog became the sole proprietor. She married Jorgen Fog in 1944 and together they had two sons, Per and Jens. Over time Mrs. Fog grew her businesses and opened stores on St. Croix and other locations. In 1976 she sold the Continental to Host International.
Mrs. Fog was the original treasurer for Antilles School and subsequently served as a trustee for the school. Throughout her long and productive life, she was a friend and supporter of many organizations and people in the Virgin Islands. Mrs. Fog loved being part of the St. Thomas community and always remarked on the kindness of the people and how well she was treated when she was out and about especially as she advanced in years and needed assistance from time to time. Until a few weeks before her death, she shopped, cooked, drove her car and went to the Post Office every day.
Mrs. Fog was preceded in death by her husband Jorgen Fog, who died in April 2005. She is survived by her sons: Per Fog and Jens Fog: their wives: Judy Fog and Leslie Fog; grandchildren: Lauren Fog, Robyn Levi, Henning Fog and Anker Fog; and one great grandchild, Lex Levi. She is also survived by numerous nephews and nieces living in the United States and Denmark.
Burial will be private. A memorial service will be held at a later date. In lieu of flowers the family requests that donations be made to the Charlotte Kimelman Cancer Institute, care of Roy Schneider Medical Center.