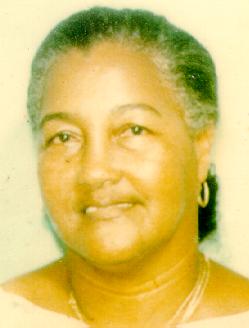 Dolores A. Monell, also known as "Lola," of Estate Anna's Hope died on July 23, at her residence. She was 80 years old.
She is survived by her daughters: Luz E. Parrilla Moss and Carmen D. Vega; sons: Felix, Manuel and Rorberto Parrilla; grandchildren: Lovieann, Lunna, Jonathan, Natasha, TJ, Charlette, Shevon, Ito, Tony, Carmen, Felix III, Felix Roberto, Jasmine, Tiffany, Aurieo, Joanna, Luis V., Carmen V., Sharon, Samuel and many more; and 21 great-grandchildren; Daughter-In-Law: Delores Parrilla and Shawn Canigater; sons-in-law: William L. Moss and Luis Vega; She is also survived by sisters: Isabel Sara and Visenta Monell; brothers: Gabino and Ignacio Monell; cousins: Victoria Anderson, Mr. and Mrs. Barnes, Mr. and Mrs. Christian, Eva Harvey and Thoedora; special friends: Doreen Hay, Agnes Vidal, Cecilia Cruz, Anna Vega and Magadi Schuter; as well as many other relatives and friends too numerous to mention.
The first viewing will held from 5-7 p.m., on Wednesday, July 29, at James Memorial Funeral Home Inc.
There will be a viewing at 10 a.m. and a funeral service at 10:30 a.m., on Thursday, July 30, at Holy Cross Catholic Church. Interment will follow at the Christiansted Cemetery.
Professional services are entrusted to James Memorial Funeral Home Inc.