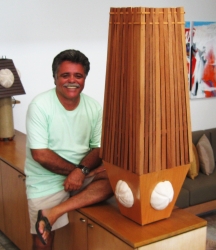 St. John resident George Hollander crafts light fixtures out of local woods and whatever he else he can find to make his works interesting and unique.
"I use whatever's available," he says, ticking off items such as mahogany, Plexiglas, spray paint and household wire. "I'm trying to create objects using eclectic materials."
Lighting fixtures on display at his house showcase sea biscuits Hollander found at the bottom of the ocean, set out in the sun to dry and cleaned up. Another piece was made from a concrete casting tube called a sonotube and is adorned with crystals from a chandelier that hung in his parents house.
His inspiration comes from many places. When asked, he mentioned the Far East, but soon added the Caribbean and New York to the list.
"And a slew of architects," he says.
Hollander also found that building his house sparked his creativity when it came to making light fixtures.
"And I hang out with interesting people," he says, adding them to his list of inspirations.
He's also aiming to cut electrical usage, with his more recent works using LED or compact-fluorescent light bulbs.
Hollander, 62, who also makes cabinets, got to this point in his life by a rather roundabout route.
Born in Munich, Germany, to parents who survived the Holocaust, he moved to New York in 1948. He spent most of his early years in Manhattan and then the Bronx before moving back to Manhattan when he was 22 to sell minicomputers, where he rented from a stage and movie actress.
"My landlord was Stockard Channing," he says.
On a trip with his wife of 29 years, Laura Hollander, to the nearby resort area of Fire Island in the mid-1970s, he decided he was through with selling minicomputers. He soon moved into designing and building the interiors of apartments and showrooms. Initially he had partners, but after three years went out on his own.
When the industry slowed in the early 1990s, he decided he would head to St. John to start work on a house while his wife stayed behind in Manhattan to earn money. They bought the property in 1993 on a trip to visit a friend and soon built a lean to serve as a base for their trips to St. John.
He worked on the house for two years until 1995 when he fell off a scaffold and broke his ankle. He was in New York recuperating when Hurricane Marilyn hit. The house came through in good shape, and Hollander returned to continue construction.
In 1997 his wife made a permanent move to St. John, and since then Hollander has been building cabinets and his lighting fixtures.
His works are for sale at MSI Interiors on St. Thomas. He's also in negotiations with a St. John store.
See Hollander's work at www.georgehollander.com or call him at 693-5793.