It was a mix of old and new, the past and the present Friday at the Pan African Support Group's 22nd celebration of Eman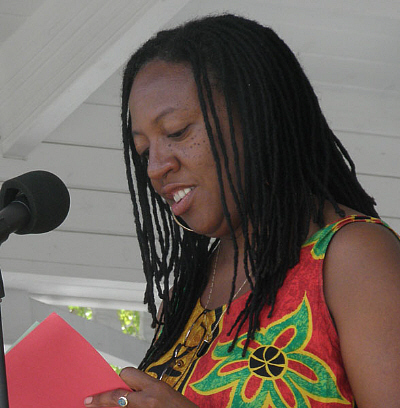 cipation Day, held appropriately enough in Emancipation Garden.
The day marks when slaves on St. Croix revolted, forcing the abolition of slavery by Danish governor Peter von Scholten on July 3, 1848.
Felicia Blake, one of the event's organizers, began the day with an African prayer, and a call to remember the elders.
"Our ancestors celebrate this Emancipation Day with us," she said. She encouraged the small crowd gathered in Emancipation Garden to pour out a bit of water as part of an African way of honoring family that has gone before.
The event featured musical performances from the University of the Virgin Islands Summer Band and Opera Camp, speeches, poetry and even a fashion show featuring little girls outfitted in brightly colored Africa-inspired frocks. There was also food, art on exhibit and jewelry and other knick-knacks for sale.
But, aside from the fun, organizers seemed to stress that although Emancipation Day signaled a big step for Virgin Islanders of African descent, the work is not over. Indeed, the theme of this year's event was "Emancipation is necessary today as it was in 1848. "
"When it comes to slavery, there are two compartments, one mental and one physical," said Brother Lumumba of the Pan African Support Group. He said the job of true emancipation has not yet been completed.
"Wherever you go, black people are on the lower end of the economic ladder."
Blake said the day was so important because it gives young people of African descent a chance to know their own history.
"It is important because we need to make our own story. We need to let our youth know so we're not just listening to someone else. We have a history here," she said.
Blake said the turnout to this year's celebration increased a bit over last year. She said getting more youth involved, like those making up the UVI's band and opera camps, brought out more of a crowd.