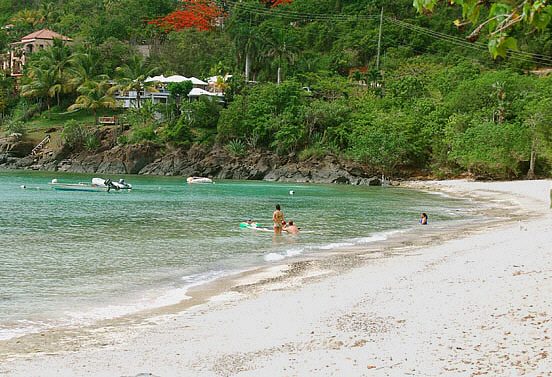 Hull Bay is a place steeped in the life of the island, part of a lost breed of beach where you can go and blend in to a local scene that is simple, peaceful and friendly. Gnarled old Seagrape trees line the shore, providing more than enough shade from the Caribbean sun. Looking out across the water you'll see two lovely, untouched islands, Inner and Outer Brass, a reachable destination on a calm day for those inclined to do a little exploring in a kayak. Whether you want to kick back for a beach-blanket snooze, visit with the sea turtles and Parrot fish, or wax up your board and charge a few waves, Hull Bay has what you're looking for.
Adventure Factor: Medium to High.
Shade Factor: High.
Ocean patrol: If it involves the ocean, you can do it in Hull Bay. Home to one of the island's few boat launches, Hull provides safe harbor for dozens of small fishing boats that lay at anchor just off shore. There is great snorkeling all over the place, but particularly from the right all the way out to the point, as well as from the far left end of the beach around the inner part of the bay. From fall through winter, north swells break on an offshore reef that runs from the middle of the bay to the western tip, Dorothea Point, making Hull a favorite surf spot.
Food and Drink!: Set back from the beach is an open-air restaurant/bar that serves lunch and dinner.
Peace Factor:Medium to high.
Sports: A water sports shop in the sprawling restaurant rents kayaks, snorkel and diving gear, surf boards and more.
Family Factor: High
Extras: There's a horseshoe pit next to the restaurant and pool tables and dartboards in the bar area.
Getting There: Located deep in the Northside at the end of Hull Bay Road, Route 37, this beach is accessible only by car or taxi.