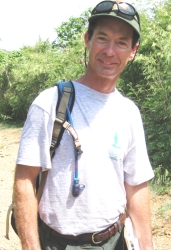 Jeff Chabot is making tracks at V.I. National Park on St. John.
Sailing in with his wife Debbie in November 2003 on their 42-foot boat, he quickly saw that the park didn't have a program where visitors could just show up to volunteer at the park. So he convinced the Friends of the Park and park officials that such a program was necessary, and volunteered to head it.
"People really get hooked on it," he says. "Some people have been out 25 times."
The program runs Tuesdays and Thursdays, November through April. Chabot picks up volunteers at 8 a.m. at the park's maintenance yard next to Mongoose Junction shopping center, at 8:15 a.m. at the Cinnamon Bay Campground and at 8:30 a.m. where the goat trail from Maho Bay Camps meets the North Shore Road at Maho Bay Beach. They spend about half the day at jobs such as clearing brush and maintaining existing trails.
"They're coached on how to use hand tools," Chabot says.
He arrived for an interview after spending the day hiking the Bordeaux trail and other trails in the Lameshur Bay area to determine their condition and see what needed to be done.
While much of the work happens in the park's back country, some of the clearing efforts sit right along the road. For example, ruins at Lind Point, cleared of brush several years ago by Chabot and a team of volunteers, are right off the road across from the Lind Point overlook.
Since volunteer programs are good for the parks and good for visitors, Chabot hopes to convince the National Park Service to expand it to many major national parks. So far, only Acadia National Park in Maine and Golden Gate National Recreation Area in San Francisco have similar programs.
Chabot, named volunteer of the year by both the park and the Friends, is no stranger to volunteering in national parks. While sailing in Maine, he and his wife hopped a bus to Acadia. They spotted a sign asking for park volunteers.
"Twenty minutes later, we were on the bus to volunteer," he says, chuckling at how that one experience grew into many.
He and his wife spent three summers volunteering at Acadia. They followed that up with three more summers volunteering at parks in Alaska. In fact, they're headed back in September for another round of volunteering before returning to St. John.
Volunteering wasn't part of the grand plan back when Chabot, 57, and his wife decided to retire early in 2003. After getting their sea legs with the Caribbean 1500 program, which escorts sailboats from Hampton, Va., to the British Virgin Islands, they planned to sail around the world. Alas, Chabot says his wife decided she wasn't up for quite that much open ocean and really wanted to continue her nursing career. She now works for Cruz Bay and Red Hook Family Practices as a nurse practitioner.
They soon settled into St. John, where they continue to live on their boat. Their daughter, Jamie, 27, visits occasionally.
Born in Meriden, Conn., the Chabots lived in Brockton, Mass. when they set off on this grand adventure. Chabot graduated from Rochester Institute of Technology before starting a printing company. With several other jobs on his resume, he eventually started a property-management company. He sold it when he retired.
He has now segued his business acumen into stock trading, done despite a precarious Internet connection on his boat.
As for his free time?
"I go for hikes with Debbie," he says.