Local news — St. Croix
@School: Duncan Coles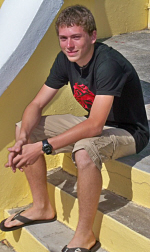 If Duncan Coles is any indication, a new generation of naturalists may be springing up on St. Croix.
Coles, a ninth grade student at Good Hope School, is deeply concerned about the health of the coral reef around St. Croix. He focuses his concern with an effort to help stop the devastation caused by the lionfish to the reef.
Coles knows the lionfish population is growing so fast that divers can't spear all of them. To figure out how to keep down the invasive fish population, he has been collecting data, dissecting lionfish, and testing theories.
"My focus is on trying to come up with the most effective way to kill the lionfish," Coles says. "There must be some way we can stop the lionfish. The fish doesn't have any natural predators here."
Coles, who is 15, has been a certified diver since he was 11 and he says he has done at least 50 dives. He says he has caught 32 lionfish and has dissected 40.
He started collecting data and trying out theories for his project for the annual science fair at Good Hope. He caught the fish then recorded sizes, gender, and fin length. He tried trapping males at Hams Bay by baiting them with ovaries from the female lionfish he dissected. He said that theory didn't pan out. In March Coles got an honorable mention in the fair for the project he named "Smell Something Fishy."
Coles, an honor roll student most of his school career, isn't giving up; he is continuing his research for the science fair next year.
"I am in the process of looking at different depths and habitats to see if the females have some distinguishable characteristics and habits that the males don't," Coles says. He wants to try to catch some lionfish and keep them in a couple of 50 gallon tanks to study them.
In the Coles family, the proverbial apple didn't fall far from the tree.
Duncan says he has been influenced by his parents William Coles, chief of environmental education at the Fish and Wildlife Division of Planning and Natural Resources, and his mother Jane Coles, a science teacher at Good Hope School. The Coles moved to St. Croix from Virginia for work when Duncan was four.
He is actively involved in the family's Funky Chicken Farm where they raise award-winning, fancy bantam chickens. He helps with the other small livestock they have like rabbits, ducks, and goats that they also show at the Agricultural Fair. He says taking care of the animals, since he was little, has taught him responsibility.
Coles and his younger brother, Morgan, have a thoroughbred horse and a couple of ponies. The brothers are members of the St. Croix Pony Club. He rides English and does jumping and dressage.
"I like jumping," Coles says. "I get an adrenalin rush and I feel as if I'm one with the horse. I enjoy trail riding too."
His goal is to compete in a Sunshine Regional Pony Club tetrathlon, an equestrian competition comprised of running, riding, shooting and swimming. He says he needs to practice shooting an air pistol at stationary targets. He would be competing with youth from Georgia, Florida and the Virgin Islands.
If he isn't riding trails, he is hiking trails; in particular, the Caledonia Gut in the rain forest. And Coles is a long distance runner on the Good Hope cross country team.
Coles recently helped out with preparations for Easter Sunday services and breakfast at St. Croix Reformed Church, helping in the kitchen and moving tables and chairs between services. He also helped hide Easter eggs for the little ones' egg hunt after services.
"It's great to know Duncan Coles, who I know mainly through the St. Croix Reformed Church," said Don Bailey, church member and organizer of the egg hunt. "He is at the age where he is courteous and helpful without being told to behave that way. Having been raised well, good manners is part of his nature."
Naturally he wants to study marine biology when he goes to college; his dad holds a doctorate in marine science from the College of William & Mary.
Coles is looking at schools with good science programs like Cornell or the University of California. He says he loves diving and sea life and wants to have a job somewhere warm, helping to save the coral reef.
"I like to see fish but I don't like to see the overfishing and coral bleaching," Coles says. "The reef is one of our diverse natural resources and we need to keep it healthy for future generations."