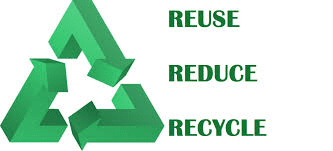 President Joe Biden pledged $100 million in funds to benefit recycling efforts in every corner of the United States, a sliver of which may reach the Virgin Islands, Environmental Protection Agency officials said Wednesday.
The bulk of the money, $73 million, will go to 25 grant-winning communities for solid waste infrastructure. The USVI was not one of these winners. Another $32 million, however, will be divvied up amongst states and territories to improve solid waste management planning, data collection and implementation of plans, according to the EPA.
The recycling grants range from $360,000 to $750,000, with the highest grant amounts supporting areas in most need. The grants are part of the EPA's National Recycling Goal and Food Loss and Waste Reduction Goal. Funded activities include improving post-consumer materials management programs through developing or updating solid waste management plans and strengthening data collection efforts, according to the EPA.
"By investing in better recycling, EPA is deploying resources to provide recycling services across the country, including in disadvantaged communities, while preventing waste that contributes to the climate crisis, supporting local economies and creating good-paying jobs," said EPA Administrator Michael S. Regan in a press release.
The EPA said it was the agency's largest recycling investment in 30 years. For-profit entities were not eligible.
Solid waste management, including recycling, has been a perpetual issue in the territory. Both governmental and private efforts have long looked for the right way to reduce waste going into landfills. The nonprofit Green Living and the territory's Waste Management Authority partnered in June 2022 to bring recycling bins to St. John for the first time. Soon after, a St. Croix effort launched with the idea of turning waste plastic into artwork.
Longtime recycling and waste management activist Diane E. Brooks joined the Virgin Islands Conservation District Board in July 2022 — the first new member in nearly 20 years.
EPA officials haven't decided exactly how and when the funds will be disbursed, said Elías Rodríguez, the EPA deputy director of public affairs.