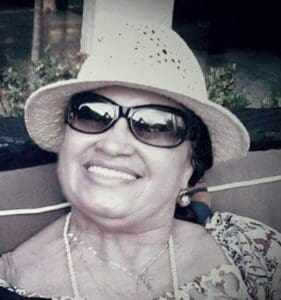 Anna Julia Morales has died. She was 66 years old.
She was preceded in death by her mother, Angelina Serrano; father, Antonio Morales; son, Roy A. Henry; and sister, Wilma Tutein.
She is survived by her companion: Alveritz Richard Verderber; daughters: Natasha S. Hewitt, Henisha S. Williams and Olanna C. Morales; sons: Antonio Henry and Juliton Henry; grandchildren: Annaresa A. Henry, Josiah E. Henry, Destiny K. Henry, Rameen K. Williams, Natalia A. Henry and Isaiah Henry; and sisters: Ilma, Marian and Maria.
She is also survived by her brothers: Candido Jr., Luis, Wilfredo and Miguel; nieces: Wilma "Ruby" Dowdy, Maria Maragh, Natasha Pew, Shamile, Denysha, Yvonne, Cristina Belardo, Sheniqua and Amaya Belardo; and nephews: Manuel "Ding" Zurita, Jose "Bolo' Osorio, Michael Maragh, Bobby Pew Jr., Davidson Charlemagne, Preston Tutein, Elijah Belardo and Miguel Jr.
Other survivors include great nieces: Wilma Joseph and Whitney Warner; great nephew, Nathan Warner; aunts: Carmen, Olympia and Noria Serrano; uncle, Moses "Bujin" Serrano; special friends: Thelma Brown and family, Jose Ortiz and family, Jack Magras and family, Petersen family, Serrano family, Williams family and the Independent Living family; as well as other relatives and friends too numerous to mention.
The viewing will be held at 10 a.m. followed by the funeral service at 10:30 a.m., Tuesday, Feb. 21, at Holy Cross Catholic Church. Private cremation will follow.