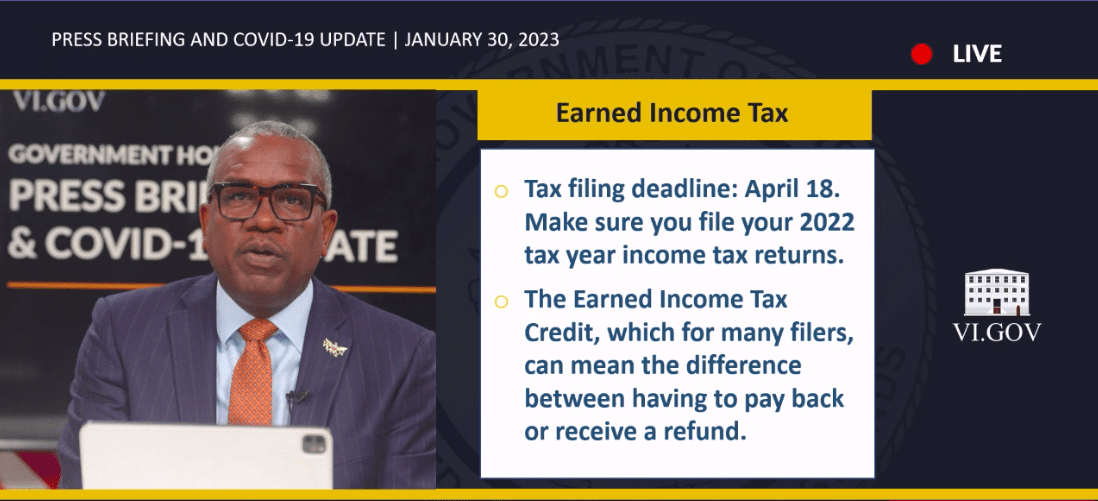 Gov. Albert Bryan Jr. acknowledged there have been flaws dispersing checks to Social Security recipients on St. Croix during the weekly Government House press briefing Monday.
The government began issuing $500 stipend checks to senior citizens Nov. 9 under the American Rescue Plan Act to help alleviate some of the financial effects of the pandemic. Families, individuals and workers who worked and didn't work during COVID also received financial aid.
On Nov. 9, long lines meant hundreds of people stood in the heat outside of St. Thomas' Schneider Regional Medical Center and the Viya parking lot on St. Croix to pick up checks.
After less than one day, the V.I. Office of Management and Budget suspended issuing checks on St. Croix and instituted a drive-through procedure at Sunshine Mall. Some seniors learned they could apply online and the checks would be mailed to them, but that was not clear to many people.
On St. Thomas, OMB continued distribution at the hospital and St. Johnians picked up checks at the island administrator's office. By Nov. 16, the St. Thomas checks had been dispersed.
At the same time, OMB used a staggered alphabetical procedure to distribute checks at the Rudolph Schulterbrandt Agriculture Fair Complex on St. Croix or by mail after sending an email to OMB.
In total, 22,000 people were to receive checks, but according to Bryan, the list of Social Security recipients was from 2020 and lacked some names. As of Monday, they are still awaiting a corrected list, he said, to complete issuing almost 1,800 checks remaining.
On Monday, Bryan acknowledged that some people had been misinformed when they called OMB. Some were told they wouldn't get a check if they didn't already have it and some were told they could pick up a check and others were told it would be mailed.
Bryan said now checks should be picked up at OMB and Government House, to correct the confusion, will put out new information on the correct procedures.
"The money isn't going anywhere. We're going to make sure everyone gets paid," Bryan said.
During the press briefing, Health Commissioner Justa Encarnacion updated the public on the small COVID surge after St. Croix Festival. As of Monday, there were 184 active cases — 146 on St. Croix, 37 on St. Thomas and St. John has one. Three people are hospitalized on St. Croix and one on St.Thomas. There were two deaths in the last four weeks, she added.
"We are aware the numbers don't represent every active case in the territory, as many of us take home tests and those aren't included in the reports," she said, but the numbers indicate trends in the community.
Encarnacion stressed the importance of the bivalent booster because the newest variants are more contagious, although the newest variant has not been confirmed in the territory. She also reminded people to continue washing their hands, wearing masks when needed and staying away from others when they don't feel well.
Vaccines are available throughout the territory — on the second floor of the Caribe Do-It Center building on St. Croix and the second floor of St. Thomas's Community Health Clinic at Schneider Regional Medical Center. Hours are between 9 a.m. and 3 p.m. at both locations. For information, call 340-718-1311, ext. 3760, and 340-774-7472.
The governor announced he will be in Washington, D.C., next week. Meetings include the National Governors' Conference and the Department of Interior's Insular Affairs. He hopes to discuss issues around the V.I. Water and Power Authority, bond financing, health care, and the rum cover over with legislators, he said.