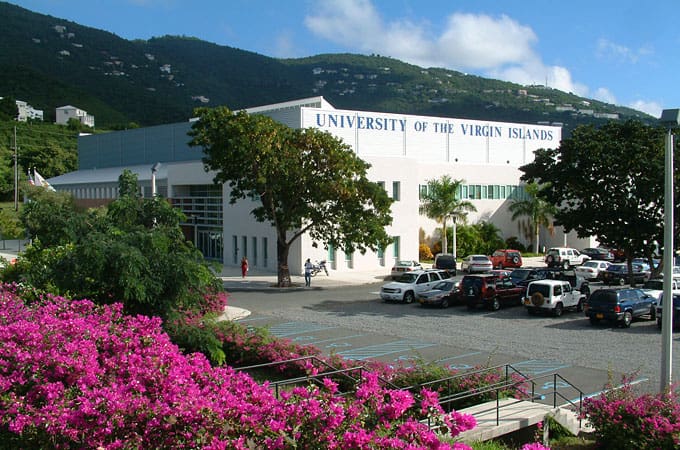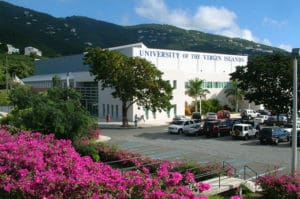 UVI School of Education Programs Achieve New National Accreditation Educational Programs Commended for Persistent and Successful Commitment to Program Quality The University of the Virgin Islands (UVI) School of Education is proud to announce it has been awarded full seven-year accreditation by the Association for Advancing Quality in Educator Preparation (AAQEP). National accreditation assures the quality of professional preparation programs through a nongovernmental, nonregulatory process of self-study and peer review.
After reviewing the evidence collected through the self-study and peer review process, the AAQEP Accreditation Commission determined that UVI's programs for teacher education, school counseling, and educational leadership met all four of AAQEP's standards and granted them full accreditation. The commission cited the programs' attention to workforce needs through a "grow-your-own" approach and accessible, inclusive admission practices; significant investments in improvements to benefit candidates, such as a more robust data collection and analysis system; and close collaboration with stakeholders to strengthen the education system throughout the region.
The commission also pointed out the programs' adaptability and resilience amidst adversity. It affirmed the university's "persistent and successful commitment to program quality in the context of numerous recent challenges" that include not only a dispersed geographic service area but also weather disasters and loss of key staff.
The School of Education received accreditation for the first time under the National Council for Accreditation of Teacher Education (NCATE) in 2013. "We chose to change accreditation agencies because we align with AAQEP's values of high expectations for continuous improvement, building the culture to support this work, and considering local contexts as a form of cultural competence," said Dr. Brown.
"Leading this process has been a labor of love! I am so proud of what we have accomplished, particularly because we are holding our own as a small academic unit in the American Caribbean alongside larger Schools and Colleges of Education in the U.S. mainland. I am grateful for my lead authors of the graduate program Quality Assurance Reports (QARs), program directors Xuri Maurice Allen, Ph.D. (School Counseling) and Clinton Valley, Ph.D. (Educational Leadership) for their quality work. I am also appreciative of the local practitioners and V.I. Department of Education partners that served as members of the AAQEP Quality Review Team for each program (Renee Charleswell, Ph.D. – initial teacher certification; Yvette McMahon-Arnold, Ph.D. – educational leadership; and Tiana Wilson-Mathew – school counseling)" Brown said.
For more information, contact pr@uvi.edu
Black in Marine Science and The Nature Conservancy SCUBA Course in St. Croix Have you ever wanted to learn how to SCUBA Dive? The BIMS SCUBA Program is meant to introduce students and professionals from traditionally excluded backgrounds to experiences that will allow you to successfully be awarded competitive internships and scholarships in the future.
Note: You must be 18 or older to participate.
This opportunity provides a completely paid diving experience for aspiring marine scientists — an open water scuba diver course and sessions to learn about and participate in coral restoration with The Nature Conservancy. The program will take place on St. Croix, May 21-27, for applicants that don't live on St. Croix all housing and flights will be covered as well.
Click the link below to apply.
The due date for submitting this form is Feb. 15.
https://docs.google.com/forms/d/e/1FAIpQLSc_9EDHbxVq3ulHw-bx1ZGnEXgIpJ0FUBNXsoA4GleqMYetlA/viewform
For more information, contact Sophia McKenzie at sophia.mckenzie@uvi.edu
Last Call for Miss UVI 2023-2024 Contestants Do you know someone interested in becoming the Next Miss UVI?
The University of the Virgin Islands Student Government Association's Queens Selection Committee is accepting applications for Miss UVI 2023-2024 Contestants. To qualify, candidates must be a matriculated female student who is not on social or academic probation, is not a graduating senior and has a GPA above 2.5.
Applications should be submitted by Friday, Jan. 27,  at 11:59 p.m.
For more information, e-mail: sgastt@uvi.edu, or contact 642-1048 or 693-1088.
VI's Largest Agricultural Festival "Agrifest" 2023 Set for February 18-20 The public is invited to attend the 51st Annual Agriculture and Food Fair of the U.S. Virgin Islands from Feb. 18-20, at the Rudolph Shulterbrandt Agricultural Complex in Estate Lower Love, St. Croix.  Also known as Agrifest, the family-friendly event will feature locally produced agricultural products, livestock, handmade arts and crafts, local food, drinks and a variety of entertainment. The fair will open daily from 9 a.m. to 6 p.m., with opening ceremonies scheduled for 10 a.m. on Saturday, Feb. 18.
The entrance fees are $6 for adults, $5 for senior citizens and $4 for children.
The theme is "Agriculture: Growing Today for Tomorrow…You, Me, All Ah We… in 2023."
Agrifest 2023 will also feature Farmer of the Year award presentations, prize-winning animals, games and competitions. Entertainment will include quadrille dancing by the Heritage Dancers and performances by the Ay Ay Cultural Dancers, We Deh Yah Cultural Dancers, Guardians of Culture Mocko Jumbies and Ay Ay Masqueraders.
Other entertainment will include VING Marching Band, Stanley and the 10 Sleepless Knights, Rising Stars Steel Orchestra, Hartatak Band International, Kurt Schindler, City of Refuge Worship Center, Eliminators, Renaissance Band, VIO International Band, Gyasi Clarke, Act Out Ensemble, Reggae Artists Expo, Unit Band, I-Land Boyz Steel Pan Extravaganza and 2023 Road March Champion.
Family fun will involve interesting and attractive exhibits, demonstrations, a variety of delicious local food and beverages, along with the fun fellowship of sharing with friends and relatives from neighboring islands. In addition to participants from throughout the Virgin Islands, guests are expected to arrive from Guyana, St. Kitts and Nevis, St. Lucia, and Grenada.
University of the Virgin Islands (UVI) programs will participate under the UVI tent with educational displays, publications and services offered to the community.
For more information, visit www.viagrifest.org or contact Marthious Clavier at 692-4090, or via email at mclavie@live.uvi.edu.
Cooks & Volunteers Needed for Afternoon on the Green 2023
Cooks and other volunteers interested in giving to a good cause are invited to participate in the 2023 Afternoon on the Green at UVI's Orville E. Kean campus on St. Thomas. Contribute your best dish, baked goods, native drinks and other delicacies to share with the community and win prizes! Or lend a helping hand in different areas to support this family-friendly event.
All proceeds go to the Edward Thomas Volunteer Scholarship Fund. To register as a cook, complete the AOTG Cook Registration Form by March 1st.
See this link to the form – https://qrco.de/bdXufR
For more information or to volunteer, contact kyza.callwood@uvi.edu or 513-9346. Mark your calendar – Afternoon on the Green 2023 is Sunday, March 19!