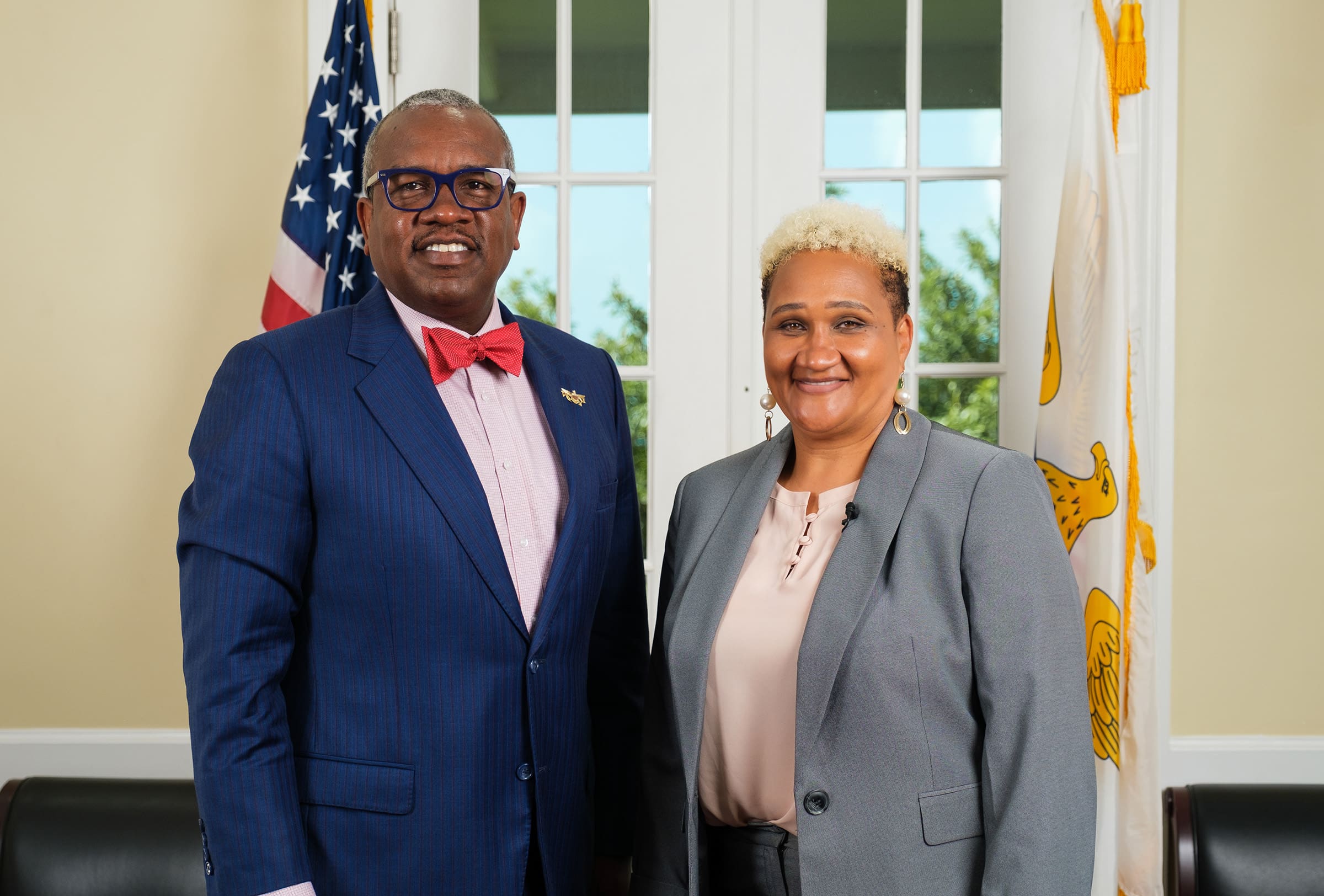 Gov. Albert Bryan Jr. held a press conference Wednesday to introduce his nominee to lead the Education Department as its new commissioner. Bryan named a veteran educator and administrator to replace former Education Commissioner Racquel Berry-Benjamin, who resigned at the end of June.
Wednesday's announcement about the nomination of Dionne Wells-Hedrington comes five days before the official start of the 2022-23 school year on Monday. The first full year of in-person classroom instruction since the start of the pandemic is expected for students from pre-kindergarten through grade 12.
According to a statement from Government House, Wells-Hedrington has served as the department's chief operations officer. She has been on the job for 29 years as a teacher, principal and as interim, and later as insular superintendent for the St. Thomas-St. John district.
Wells-Hedrington thanked Bryan and also thanked the men and women of the Education Department for their hard work and dedication. If confirmed by the Legislature, the nominee promised to serve honestly and candidly.
"One thing I can assure the public is that I will be honest and straightforward," she said.
Both Wells-Hedrington and the governor also laid out some of their priorities at the Wednesday press conference held in the conference room of the Public Finance Authority on Government Hill. The continuing repair and replacement of old and damaged school buildings are high atop the list. To do so will require continued collaboration with recovery partners at the Federal Emergency Management Agency, they said.
Bryan and Wells-Hedrington also voiced their intentions to expand early education with the addition of eight new pre-kindergarten classrooms, territorywide. There are also plans to consolidate the schedules of the four public high schools, which would give students a better chance to complete courses needed for graduation through Education's new virtual academy.
Bryan said he felt Wells-Hedrington could steer the largest agency in the V.I. government through its many challenges. Some of the most pressing challenges involve recovery from natural disasters and restrictions from a two-year-long COVID-19 health emergency.
"I think today we have a commissioner that takes on a department with good experience, well-wrought education and a deep, deep passion for the children of the Virgin Islands," he said.
Bryan also appealed to the public, including the parents of students in the school system, for their support. "We need your help. The commissioner needs your help. We need you to participate as a community, as parents, friends, aunties, cousins and uncles, and support the Department of Education," Bryan said.