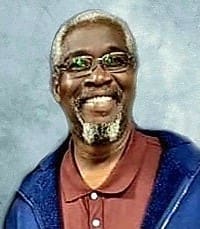 Peter Churchill DeLande, age 66, of East Street Christiansted, St. Croix, died at his daughter's home in Cleveland, Tenn.  He was born on the island of Trinidad on March 23, 1956, to Ken Eric DeLande and Rita G. DeLande (deceased).
He was preceded in death by his brother, Parris DeLande; and grandson, Denahi Skeet.
He is survived by his wife, Francine DeLande; sons: David, Daniel and Dean DeLande; daughters: Paula Purifory, Lavern and Dana DeLande; brothers: Albun, Clefryn, Carlisle, Davelyn and Gerard DeLande; and sisters: Gemma Murray, Lynette and Isla Diane DeLande.
He is also survived by grandchildren: Joshua, Michael, Isaac, Isaiah, Kymani, J'dyn, Mahki DeLande, Christian Sweeney, Zahkai Williams, Azriyel Purifory, Ahmani Nibbs, Robert Legrand, Kieana, Kiniyah, Dayla, Kemora, Aliyah, Kaliyah DeLande, Aniyah Purifory, Arieyah Legrand and Azarayah Johannes.
Other survivors include nieces and nephews: Kaleema, Arlene, Carla, Carlisle Jr., Carl, Berisha, Stephon, Kevin, Kerwin, Michael and Deborah DeLande; as well as other nieces and nephews too numerous to mention. Special thanks to Brian L. Buckmon/ Patton Funeral Home, Cleveland, Tenn., Adoration Hospice, Cleveland, Tenn., and Dr. Hubert Watty / Agape Wellness Center, Christiansted, VI;
We will forever carry your memory in our hearts!
There will be a viewing held at 9 a.m. followed by a funeral service at 10 a.m., Saturday, July 30, at Church of God of Prophecy, 171 Richmond, Christiansted. Interment will be at Kingshill Cemetery.