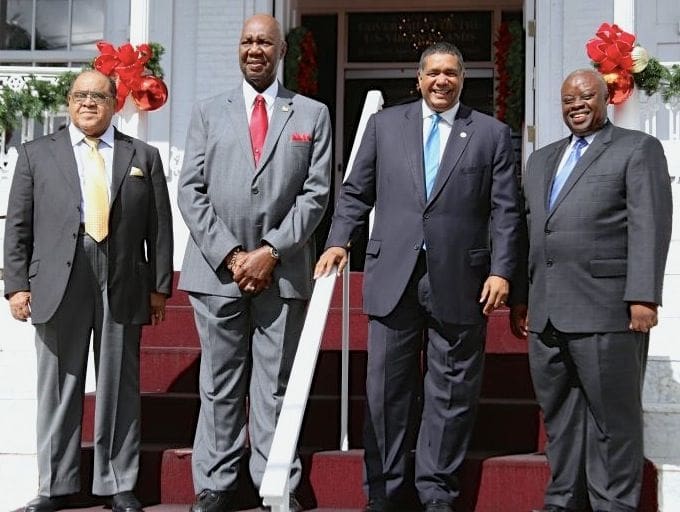 "Governor Charles Wesley Turnbull, can you please stand," former Sen. Myron Jackson said at Freedom Day events on St. Thomas Sunday, as the crowd in Emancipation Garden honored ancestors – among them family members and friends – who they said have helped shape the territory. Turnbull "slipped away quietly" on the eve of Emancipation Day, Jackson said, leaving a community behind that would forever be inspired by his advocacy and contributions.
He was 87, and when he passed Sunday in Washington, D.C., where he had lived for the past year, he was surrounded by family, friends said. The drums at Sunday's celebration thrummed quietly as those gathered bowed their heads in a moment of silence called upon by Jackson, whose tributes were echoed across the territory and abroad by those who knew him – and, even those who just knew of him.
"I was truly honored to have been the chairman of the Democratic Party that elected him twice. He brought with him a commitment to public service that is unquestionable. Five-time delegate to the Constitutional Convention, member of the Centennial Commission, sixth elected governor, member of the Board of Education, a member of the Board of Elections – without any question, he served the territory with distinction. I am honored to call him a friend and to have stood by his side," James O'Bryan Jr., who served as Turnbull's St. Thomas-Water Island administrator, said by phone Sunday.
Along with the issues he tackled while governor, one of Turnbull's biggest battles was faced while serving as Education commissioner under former Gov. Melvin Evans.
"The judge ruled that in the Virgin Islands, children of those who were not American citizens had to be educated," O'Bryan said. "He battled that issue, and it was successfully done. In addition, the time he served in that position brought about one of the largest periods of growth in V.I. educational history."
As word of Turnbull's passing reached Government House on Sunday morning, Gov. Albert Bryan Jr. ordered the territory's flags lowered to half-staff by day's end. A period of mourning for the sixth elected governor of the Virgin Islands is to be observed until July 10, Bryan declared.
Dignitaries and those who worked with him through various phases of his career also remembered him as a statesman, an intellect and as one with a love for Caribbean culture and history.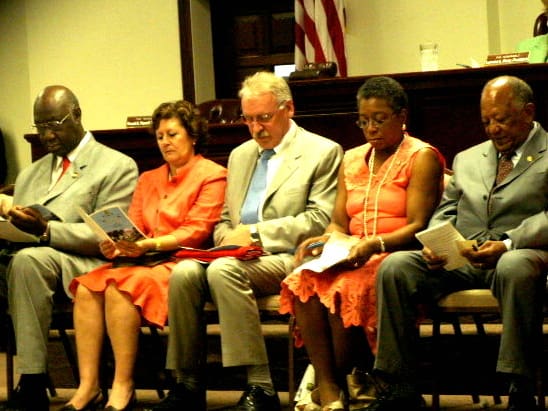 Charles Wesley Turnbull was born on St. Thomas on Feb. 6, 1935. He attended public school and graduated from the Charlotte Amalie High School, a school he would later lead as its principal.
After traveling to the U.S. mainland to earn a bachelor's and a master's degree – followed later by a doctorate from the University of Minnesota and an honorary doctorate from the University of the Virgin Islands – Turnbull came home to teach. Education became his career. He rose in the ranks from teacher to administrator, and along the way added a doctorate degree in school administration. By the mid-1970s Turnbull became assistant commissioner, then commissioner at the Department of Education.
From his post at Education, Turnbull promoted broader knowledge of Caribbean history and culture for students in public schools.
Senate President Donna Frett-Gregory offered her condolences in a separate statement issued Sunday, along with a personal reflection about the relationship she formed with Turnbull at the Board of Education.
"It was on the 13th Board of Education where I met his acquaintance when we both served, and over the years, our professional relationship transitioned to a friendship," Frett-Gregory said. "We are comforted in knowing (that) along his journey he generously shared historical knowledge of his beloved Virgin Islands, as he was often called upon by persons here and in the diaspora." The 29th Legislature awarded Turnbull with the V.I. Medal of Honor for his contributions both within the territory and abroad.
The Senate president in her condolence message also spoke of Turnbull's willingness to counsel and encourage other territorial leaders. Bryan also counted himself among them.
"Governor Turnbull was a true pillar in our community. Outside his legacy as our sixth-elected Governor, he was a historian, culture–bearer, and educator. No words can overstate the significance of his contributions to our territory. He was a giant, not only in stature but in what he gave through his life's work to our people's educational and political advancement. I am blessed to have stood on his shoulders and received his encouragement and tutelage," the current governor said.
Former Senate President Kenneth Gittens, now a district lawmaker in the 34th Legislature, recalled his seven years of service to Government House as the head of Turnbull's security detail. "I had the good fortune to work with the late governor when he appointed me as the first executive security director for the territory. As his security chief, we worked closely for many years, and I am truly broken by the news of his passing," Gittens said.
The St. Croix senator called his former boss "an exceptional human being – intelligent, compassionate, fair, and understanding."
"These islands are better because of him and we would all do well to emulate the late governor's integrity, empathy, diligence, and sense of duty," Gittens said.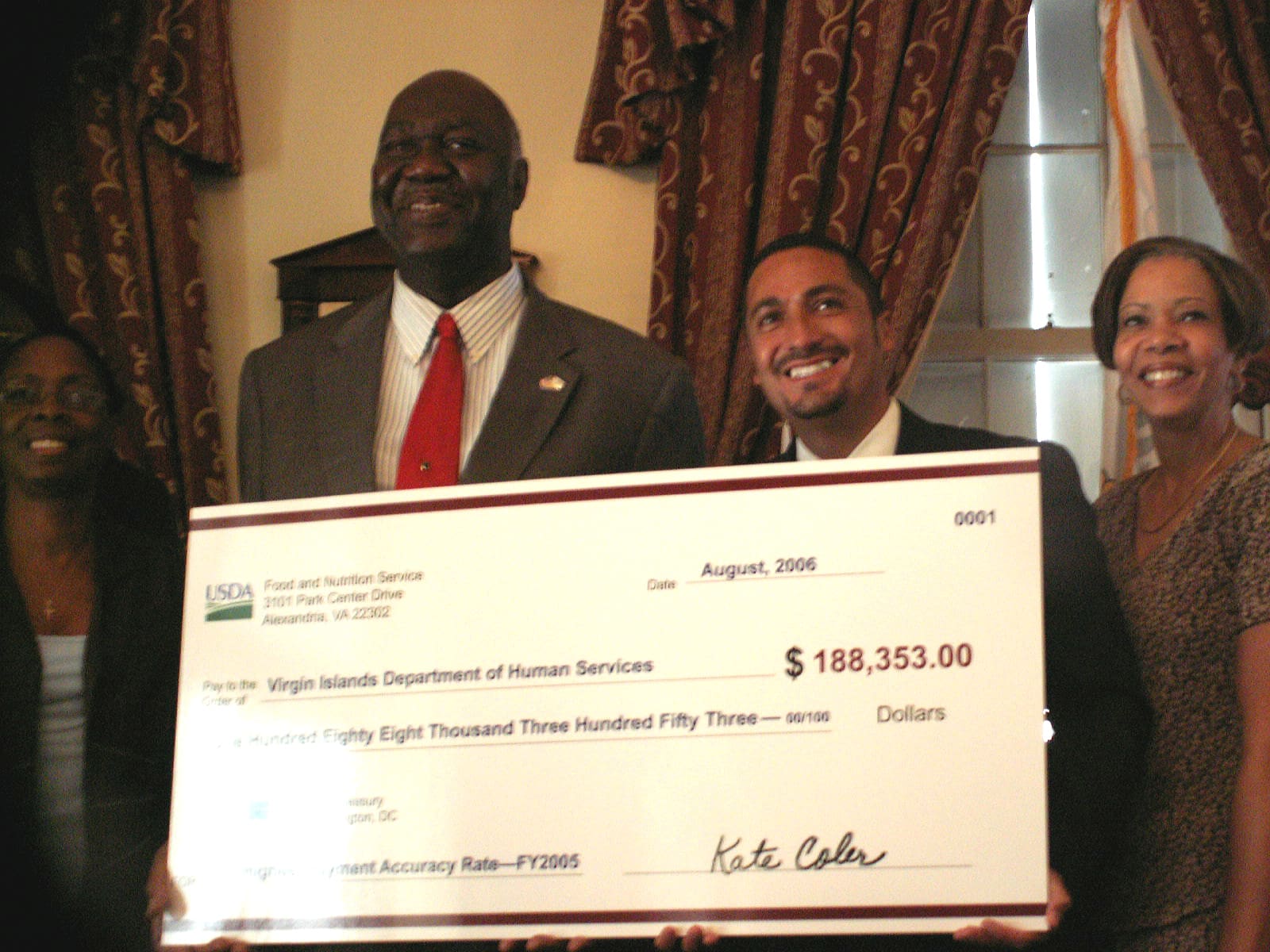 Speaking Sunday, Delegate Stacey Plaskett also praised Turnbull's commitment to the territory.
"Governor Turnbull was tremendously dedicated to the field of education and the preservation of our Caribbean history and to the people of the Virgin Islands. His commitment to public service, including two terms as governor of our territory, is exemplary," she said. "Historian, public servant and educator, Governor Turnbull had a deep love for these Virgin Islands that was reflected in his commitment to each of the roles he held."