With 41 active cases in the territory and a low positivity rate of 1.39 percent, some hours of operation for COVID-19 tests and vaccinations have been reduced, said V.I. Health Commissioner Justa Encarnacion Monday during the weekly Government House coronavirus update.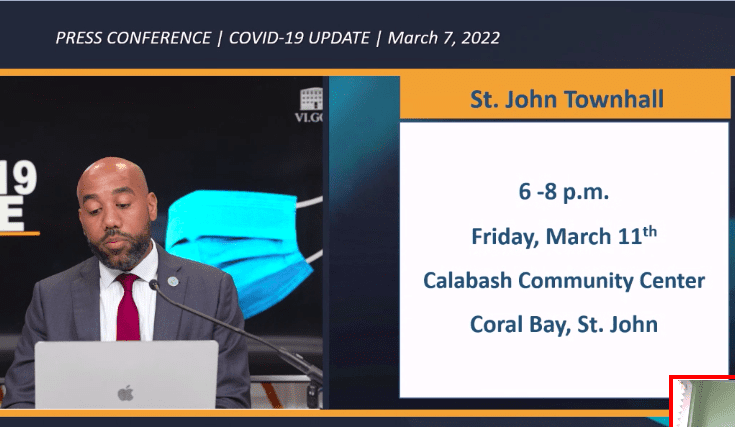 The active cases include 26 on St. Croix, 14 on St. Thomas, and St. John has one infection. One person is hospitalized with COVID-19 at Schneider Regional Medical Center, and two people are inpatients at Juan F. Luis Hospital, with one on a ventilator.
Last week, some of the virus restrictions were lifted by Gov. Albert Bryan Jr., and a few more were announced at Monday's briefing.
Encarnacion announced new guidelines for schools and large events. The DOH will no longer require permits for gatherings and events for fewer than 1,000 attendees, but events for more than 999 guests still require clearance from the Health Department.
The requirement for COVID tests before entering the territory has also been relaxed, and travelers' valid vaccination records will be accepted and can be uploaded to usvitravelportal.com for easier entry.
"All public school students return to the classroom as of Monday, March 14. Masks will continue to be required when students are in outdoor areas on all school campuses," Encarnacion also announced.
Masks are also required on public transportation and inside airports and ferry terminals.
According to Encarnacion, more than 67,669 initial doses and 56,001-second doses of the vaccine have been administered in the Virgin Islands, and it has been two weeks since the last fatality from the virus.
The commissioner thanked the community for its participation in the effort to reduce infections and said the Health Department will continue to provide the tests and vaccines to reduce cases.
"I wanted to remind you that COVID is indeed still circulating. Our health care providers, I think, have been hit the hardest. Our workforce has been decreased, so I really want to impress upon you to please be safe as they are continuing to work very hard with the lingering effects of COVID," she said.
Vaccinations on St. Croix will be administered Mondays through Fridays from 8 a.m. to 4 p.m. at the former Nissan Center. Pop-up vaccinations are also available at the Market on Tuesdays, Wednesdays, and Thursdays, as well as at the Farmers' Market on Saturdays from 7 a.m. to 11 a.m.
Immunizations will be given on St. Thomas at SRMC from 8 a.m. to 4 p.m. Monday through Friday, and pop-ups are Tuesdays and Thursdays at Cost U Less from noon to 3 p.m.
Shots and COVID tests are available at the St. John gravel lot on Wednesdays from 1 p.m. to 4 p.m.
Appointments for vaccines are encouraged at covid19usvi.com/vaccines or the VITEMA hotline at 340-712-6299 or 340-776-1519. The hotline hours have been reduced to Monday through Friday from 8 a.m. to 5 p.m. due to the decrease in calls, the commissioner said.
Testing can be scheduled at www.covid19USVI.com/testing, and arrangements can be made to receive tests and vaccines at home for those who are homebound.
Additional tests are being given at St. Croix Educational Complex on the last Friday of the month – March 25, from 3 p.m. to 5 p.m. Encarnacion said children with symptoms will be tested as well as around five percent of the student population, teachers and staff.
"That is really the goal right now – to test the symptomatics," she said. "If by chance they (Department of Education) think there's a surge, then we'll go to that school.
Government House Communications Director Richard Motta announced the governor has requested an extension on the State of Emergency from the Legislature that first was enacted at the onset of COVID in 2020. The State of Emergency allows the government to impose regulations, operate the travel portal, access the National Guard emergency medical responders, and obtain funding.
Motta also said the governor is meeting with the Waste Management Authority about house to house collection and will waive tipping fees for the rest of the year. Bryan also plans to meet with the horse racing community to discuss recent updates to the law. He will also hold a town hall meeting on St. John to discuss the future of Coral Bay.
Motta also echoed the commissioner's warning about the virus. "We are nowhere near out of the woods," he said.